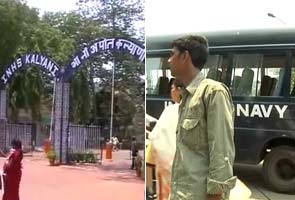 Visakhapatnam:
Four Navy personnel, including two officers, were killed when a docking gate collapsed at the Visakhapatnam Naval Dockyard here today, officials said.
The docking gate, which was meant to take sea water into the dry dock collapsed during routine operations at around 10 am today, resulting in the death of two officers and two sailors.
The deceased identified as Commander Ashwini Kumar (47), Lt Commander Ranbir Ranjan (30) and Master Chief Madhu Babu (31) died on the spot, while another sailor (working in Separate-III post), Rajesh (30), succumbed to his injuries in the evening, Navy officials in Visakhapatnam said.
A release from the Indian Navy said the cause of the accident and other details are being ascertained and a Board of Inquiry has been ordered to probe the cause and circumstances leading to the accident.
"The Indian Navy regrets to inform the occurrence of an accident at the Naval Dockyard Visakhapatnam due to collapse of a docking gate during routine operations that was being undertaken today," the release said.
"While the cause of the accident and other details are being ascertained, we can confirm two officers and two sailors lost their lives in the incident," it said.
Get Breaking news, live coverage, and Latest News from India and around the world on NDTV.com. Catch all the Live TV action on NDTV 24x7 and NDTV India. Like us on Facebook or follow us on Twitter and Instagram for latest news and live news updates.