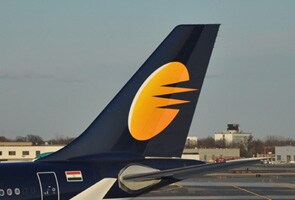 Guwahati:
A Jet Airways flight with 134 passengers onboard, had a mid-air scare over Lucknow on Thursday, triggering panic aboard, passengers said.
Sources say the Boeing 737 Jet aircraft - flight number 9W 2280 - from New Delhi to Guwahati was taking a right turn when at the same time there was a Boeing 747 exactly above it. There was, however, adequate separation between them, claim sources.
While the pilot of the Jet aircraft was executing a right turn, it was hit by what pilots call 'wake turbulence' - rough air generated by a jumbo plane.
After being hit by wake turbulence, the Jet plane began to plummet for about five seconds. The place was on auto-pilot and it corrected itself, the sources added.
"First the flight abruptly turned right and then began to plummet. We thought it would crash. There was chaos and people were screaming inside," Caushik Bezboruah, chief executive officer of News Live, a satellite TV channel from Guwahati said.
"I heard people crying, some praying on top of their voices. It was a chaotic situation for close to a minute before the pilot took control," added Bhaskar Sharma, director of News Live.
Sources say no warnings of breach of separation were generated in the cockpit. Even the Air Traffic Control (ATC) did not warn the pilot of an aircraft overhead.
"The pilot said the flight's computer system automatically navigated the plane and moved away from the path of the approaching flight to avoid a mid-air collision," Bezboruah said.
The incident took place around 11.35 a.m. The Jet Airways flight landed safely in Guwahati around 1 p.m.
Jet Airways issued a statement confirming the Jet flight, a Boeing 737 encountered rough air generated by another plane, a Boeing 747.
"Jet Airways flight 9W 2280 from Delhi to Guwahati-Agartala encountered rough air generated by a large Boeing 747 taking off at around 1122 hrs this morning at Indira Gandhi International Airport. The flight was uneventful, continued on its normal course and the aircraft landed safely at its destination in Gawahati at 1300 hrs," the statement said.
Sources have told NDTV the Directorate General of Civil Aviation (DGCA) was alerted about incident by ATC. An inquiry has been ordered into the incident along with the airline and the relevant airport.
Jet Airways will be asked to do a detailed analysis of the incident and submit a detailed report, sources. Some sources within the DGCA believe the two planes coming together was a matter of concern.
(
With IANS inputs
)