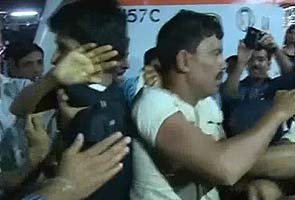 Mumbai:
For two weeks, two men in Mumbai had harassed a young student, unconcerned by the outrage over crimes against women not just in the city but across the country. On Monday, they were caught in the act, beaten up by a crowd and handed over to the police.
The incident near a local train station in the Bandra area of the city was filmed on camera. Policemen who had laid a trap for the men, apprehended them, but not before the two men were given a sound thrashing by people present there.
Mehakarul Seikh, 35, and Nijamul Mussa Lashker, 22, had harassed the nursing student repeatedly on her way to work, brazenly passing lewd comments. The girl first approached an NGO for help. The activists then called the police.
The 10 second video clip filmed by the cops shows the two men thrashed by an angry crowd before being led away by the police.
Last month, a similar clip emerged of a pervert being slapped by the woman he attacked on a local train.
The incident highlights the anger at incidents of sexual harassment and assault of women in Mumbai reported in recent times. A fortnight ago, a man was attacked when he tried to protect his sister from a group of boys who were harassing her.
In August, the gang-rape of a young photojournalist at a deserted mill in the heart of the city sent shock-waves across the nation. Five men allegedly assaulted and tied up the girl's colleague before taking turns to rape her, holding a beer bottle to her head.