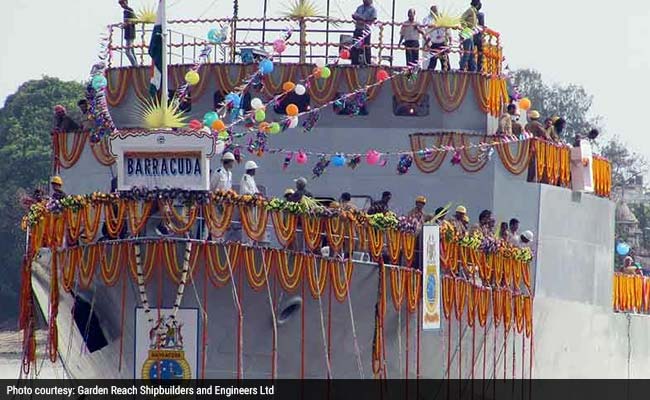 Highlights
Mauritius is buying a Barracuda
The cost is Rs 350 cr
Sri Lanka will buy two more
It signals a new start for India's defence industry
New Delhi:
Coast Guard Ship Barracuda - a 75m by 12m vessel which can house 20-odd sailors - may be a small by warship standards, but it is a great leap for India.
Barracuda - designed and built by the Kolkata-based Garden Reach Shipbuilders - is India's first warship which is to be exported. Mauritius is buying it for Rs 350 crore. It will be handed over to Mauritius in another 10 days.
Two more ships are under construction at the Goa Shipyard - another Defence Public Sector Unit - and will be sold to Sri Lanka.
The off-shore patrol vessel will be used to police Mauritian waters, spread over 1.9 million square km, against piracy, smuggling, illegal fishing and drug trafficking. It will also provide logistical support, including search and rescue operations.
The Barracuda has another feature that is a first for its class - a pollution control suit that can be used to deal with oil-spills.
Unlike in the past, India no longer needs to look to foreign manufacturers for warships. All its boats are now being manufactured in Indian shipyards.
Recently, the Ministry of Defence even cancelled plans to buy submarines to replace and strengthen its aging fleet. It asked the Navy to identify an Indian shipyard which could acquire the technology from a foreign partner and build submarines in India.
Besides signalling a new beginning for the Indian defence industry, the sale of the Barracuda also signifies the deepening of ties between India and Mauritius.
As part of the maritime strategy and with an eye to counter China's growing influence in the Indian Ocean Region, India is walking an extra mile to develop relationships at key points around the Indian Ocean - the Persian Gulf, the Malacca Strait and southern Africa.
The location of Mauritius is economically and geo-strategically extremely crucial for India - it is the entry point to the Atlantic Ocean.
India has a growing security relationship with Madagascar, Mozambique and Seychelles. But the Indo-Mauritian relationship continues to be a pivot around which India's influence in the south-west of the Indian Ocean rests.