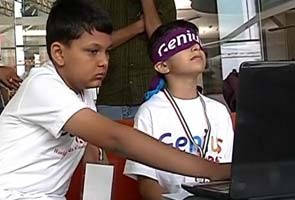 Mumbai:
Eight-year-old Shourya Maheshwari can solve the Rubik's' cube, blindfolded, in less than two minutes. And add figures that appear on a computer screen at an interval of 0.4 seconds.
Shourya is the newest addition to the seven-member Indian team that returned with 33 medals from the World Mental Olympics last year.
The whiz kid tells NDTV, "We practice on the abacus and form an image in our mind. That is how we calculate."
Also in the team is 12-year-old Granth Thakkar. His record for mental addition was broken by a Japanese contestant, which he now wants to reclaim.
Carrying on the legacy of maths gurus Aryabhatta and Shakuntala Devi, the Indian team has been trained by 25-year-old Gwendolen Noronha who says, "We plan to break and create at least 18 records this year."
Ms Noronha, who runs a firm called Child's Intellectual Academy, is heading the Mental Calculations and Memory World Cup team for India.
The Indian team for the World Mental Olympics was chosen from among more than 260,000 children at more than 200 centres of Ms Noronha's academy.
The championship is an organized competition of mental sports in which competitors memorise as much information as possible within a given period of time.
But Ms Noronha laments the lack of support in the country, even after an impressive campaign at the Mental Olympics. The tour to Turkey is being financed by the World Mental Olympics Committee Chairman and Ms Noronha herself.
But with her team planning to attempt 18 more records in Turkey, she hopes the kids will get what they deserve as international champions.
For the latest News & Live Updates on Election Results from each assembly constituency in Madhya Pradesh,Rajasthan,Mizoram,Chhattisgarh,Telangana, like us on Facebook or follow us on Twitter for updates.