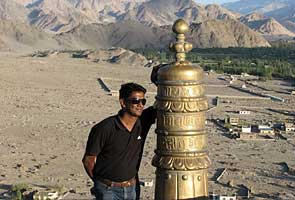 Ranchi/Raipur:
Abducted Collector Alex Paul Menon's condition has worsened, according to sources. Medical help that was sent through former MLA from Konta district Manish Kunjam reached the Collector today. Mr Menon's wife had yesterday made another appeal to the Maoists for the safe release of her husband, after a statement by the abductors said that the Collector's condition is critical.
"It's our appeal to Mrs Asha Paul Menon, his friends, family and IAS officers that Mr Alex Paul Menon's health is very critical. It's our request to please send his medicines from the mediators. The delay being caused by the officials is responsible for his bad health and if something happens, it will be the government's responsibility," said the statement.
Hours after the statement was released, Mr Kunjam was rushed by the state government with urgent medicines for Mr Menon. Mr Kunjam delivered the medicines today to Mr Menon. Mr Kunjam is one of the three mediators named by the Maoists, who they would be willing to negotiate through. Prashant Bhushan, another mediator named by the Maoists, has however refused to take part in the negotiation process.
With the deadline set by Maoists for the release of Sukma's District Collector ending today, Chhattisgarh Chief Minister Raman Singh has said that the state government is "ready for talks whenever the Maoists want." Mr Singh said that he has scheduled two-three meetings with his officials over the release of Mr Menon.
"We are fully prepared form our side. Whenever they (Maoists) want to discuss they can start discussing. Our aim is that we want our collector back; this is the only aim till now," said Mr Singh.
He had earlier appealed to the Maoists not to set anymore deadlines.
Meanwhile, the Maoists today named Professor Hargopal as another mediator they were willing to talk to.
"I have participated earlier in two hostage crises. I believe that it should happen without any loss of life. I am thinking about going with B D Sharma. We will have to see both the government's and the Maoists' point of views. Why the poor tribals are fighting today. This is not just about the abduction; we will have to work to stop this. The government will have to accept the rights of the tribals," Professor Hargopal reacted today.
The Left ultras had kidnapped Mr Menon in a remote village on Saturday where he was attending the Gram Suraj Abhiyaan - a state government-run programme meant to promote greater coordination and connect between the villagers and administration. They also killed two of his security personnel when they resisted his abduction.
The Maoists have demanded the withdrawal of paramilitary forces from Bastar, a known stronghold of the rebels, the release of eight prisoners and a halt to Operation Green Hunt at large, in return for freeing the 32-year-old Collector.