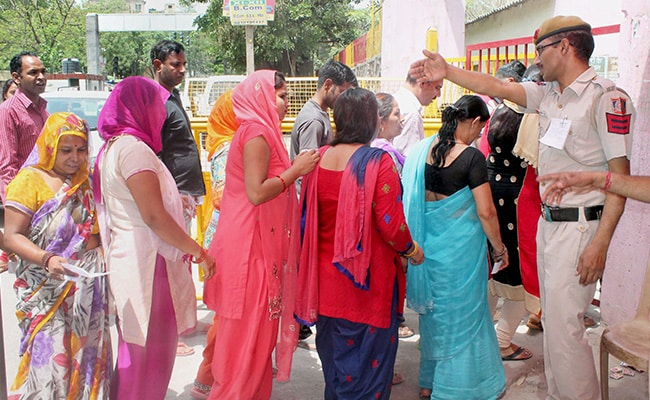 New Delhi:
Delhi has made its choice. The BJP will rule the Municipal Corporation of Delhi for the third consecutive time. The results announced today following high-decibel campaigning by all parties, reports of electronic voting machines being tampered with and an overall voter turnout of 54 per cent on Sunday have crashed Congress' hopes which was aiming for a comeback of sorts. It also means the citizens have rejected Chief Minster Arvind Kejriwal's AAP government in the capital.
The Yogendra Yadav-led Swaraj India, too, failed to make a mark in its electoral debut. There were independent candidates and contestants from Janata Dal (United) and Bahujan Samaj Party as well.
The party's decision to promote young blood seems to have worked for the BJP which fielded none of its 153 sitting councillors and contested the polls with only fresh faces.
"We will bring new faces and young talent in the MCD elections. We are preparing a new army for next 10 years," Delhi BJP chief Manoj Tiwari had said before the elections.
The erstwhile unified MCD was split into three -- North, East and South -- in 2012 and of the 272 wards, North and South corporations got 104 and East Delhi got 64.
While in 2012, the BJP won 138 and the Congress 78, in the 2007 elections to an undivided MCD, the BJP had won 144 wards against the Congress' 59 and the BSP's 12.
This was the first civic poll after the 272 civic wards were reshaped based on 2011 Census. The last delimitation exercise was conducted in 2007. Each ward now has an average of 60,000 people with an estimated 40,000 voters.
Here is the list of wards in the three municipal corporations:
East Delhi Municipal Corporation
ANAND VIHAR
ANARKALI
ASHOK NAGAR
BABARPUR
BHAJAN PURA
BRAHAM PURI
CHAUHAN BANGER
DILSHAD COLONY
DILSHAD GARDEN
GANDHI NAGAR
GAUTAM PURI
GEETA COLONY
GHAROLI
GHONDA
GHONDLI
GOKAL PURI
HARSH VIHAR
I.P. EXTENSION
JANTA COLONY
JOHARIPUR
KANTI NAGAR
KARAWAL NAGAR-EAST
KARAWAL NAGAR-WEST
KARDAM PURI
KHAJOORI KHAS
KISHAN KUNJ
KRISHNA NAGAR
LAKSHMI NAGAR
MANDAWALI
MAYUR VIHAR PHASE-II
MUSTAFABAD
NAND NAGRI
NEHRU VIHAR
NEW SEEMAPURI
PANDAV NAGAR
PATPAR GANJ
PREET VIHAR
RAGHUBARPURA
RAM NAGAR
ROHTASH NAGAR
SABOLI
SADATPUR
SEELAMPUR
SHAHDARA
SHAKARPUR
SHIV VIHAR
SUBHASH MOHALLA
SUNDER NAGRI
VINOD NAGAR
VISHWAS NAGAR
VIVEK VIHAR
YAMUNA VIHAR
DALLUPURA
JHILMIL
KALYAN PURI
KONDLI
MAUJPUR
MAYUR VIHAR PHASE-I
NEW ASHOK NAGAR
SONIA VIHAR
SRI RAM COLONY
TRILOKPURI-EAST
TRILOKPURI-WEST
WELCOME COLONY
North Delhi Municipal Corporation
ADARSH NAGAR
AJMERI GATE
ALIPUR
AMAN VIHAR
ANAND PARBAT
ASHOK VIHAR
BAKHTAWARPUR
BALJIT NAGAR
BALLIMARAN
BANKNER
BAWANA
BAZAR SITA RAM
BEGUMPUR
BHALSWA
BUDH VHAR
BURARI
CHANDNI CHOWK
CIVIL LINES
DELHI GATE
DEV NAGAR
DHIRPUR
EAST PATEL NAGAR
G.T.B. NAGAR
HAIDERPUR
HOLAMBI KHURD
JAHANGIR PURI
JAMA MASJID
JHARODA
KADIPUR
KAMALPUR
KAMLA NAGAR
KANJHAWALA
KARAMPURA
KAROL BAGH
KIRARI SULEMAN NAGAR
KISHAN GANJ
KOHAT ENCLAVE
LAKSHMI PARK
MALKA GANJ
MANGOLPURI-A
MANGOLPURI-B
MANGOLPURI-C
MANGOLPURI-D
MANSAROVER GARDEN
MODEL TOWN
MUBARAK PUR DABAS
MUKHERJEE NAGAR
MUKUNDPUR
NANGAL THAKRAN
NANGLOI
NANGLOI JAT
NARAINA
NARELA
NIHAL VIHAR
NILOTHI
NIMRI COLONY
NITHARI
PAHAR GANJ
PASCHIM VIHAR
PEERA GARHI
PITAMPURA
POOTH KHURD
PREM NAGAR
QAMRUDDIN NAGAR
QURAISH NAGAR
RAM NAGAR
RAM PURA
RANI BAGH
RANI KHERA
RANJIT NAGAR
RITHALA
ROHINI-A
ROHINI-B
ROHINI-C
ROHINI-D
ROHINI-E
ROHINI-F
ROHINI-G
ROHINI-H
SADAR BAZAR
SAMAYPUR BADLI
SANGAM PARK
SARAI PIPAL THALA
SARASWATI VIHAR
SARUP NAGAR
SAWAN PARK
SHAKUR PUR
SHALIMAR BAGH -NORTH
SHALIMAR BAGH -SOUTH
SHASTRI NAGAR
SULTANPURI-A
SULTANPURI-B
SULTANPURI-C
SWAMI SHARDA NAND COLONY
TIMARPUR
TRI NAGAR
VIJAY VIHAR
WAZIR PUR
WEST PATEL NAGAR
INDER PURI
MOTI NAGAR
RAJINDER NAGAR
ROHINI-I
SANT NAGAR
South Delhi Municipal Coporation
ANDREWS GANJ
AYA NAGAR
BADARPUR
BAPRAULA
BHATI
BIJWASAN
BINDAPUR
CHHAWLA
CHIRAG DELHI
CHITARANJAN PARK
DABRI
DAKSHIN PURI EXTENSION
DARYAGANJ
DEOLI
DICHAON KALAN
DWARKA - A
DWARKA-B
DWARKA-C
GHUMAN HERA
GOPAL NAGAR
GOVIND PURI
GREATER KAILASH
HARI NAGAR
HARKESH NAGAR
HASTSAL
HAUZ KHAS
ISAPUR
JAITPUR
JANAKPURI SOUTH
JANAKPURI WEST
KAKRAULA
KALKAJI
KAPASHERA
KASTURBA NAGAR
KESHOPUR
KHANPUR
KHYALA
KOTLA MUBARAKPUR
LADO SARAI
LAJPAT NAGAR
MADANGIR
MADHU VIHAR
MADIPUR
MAHAVIR ENCLAVE
MAHAVIR NAGAR
MALVIYA NAGAR
MANGLAPURI
MATIALA
MEHRAULI
MILAP NAGAR
MOHAN GARDEN-NORTH
MOHAN GARDEN-SOUTH
MOLARBAND
MUNIRKA
NAJAFGARH
NANGAL RAYA
NANGLI SAKRAWATI
NAWADA
OM VIHAR
PALAM
PRATAP NAGAR
PUL PEHLADPUR
PUNJABI BAGH
PUSHP VIHAR
R.K. PURAM
RAGHUBIR NAGAR
RAJ NAGAR
RAJA GARDEN
RAJOURI GARDEN
RAJPUR KHURD
RANHOLA
ROSHANPURA
SADH NAGAR
SAFDARJUNG ENCLAVE
SAGARPUR-EAST
SAGARPUR-WEST
SAINIK ENCLAVE
SANGAM VIHAR-A
SANGAM VIHAR-B
SANGAM VIHAR-C
SANGAM VIHAR-D
SANGAM VIHAR-E
SIDHARTH NAGAR
SITAPURI
SRI NIWAS PURI
SUBHASH NAGAR
TAGORE GARDEN
TEKHAND
TIGRI
TILAK NAGAR
TUGHLAKABAD EXTENSION
UTTAM NAGAR
VASANT KUNJ
VASANT NAGAR
VIKAS NAGAR
VIKASPURI
VISHNU GARDEN
ZAKIR NAGAR
ABUL FAZAL ENCLAVE
CHHATARPUR
JASOLA VIHAR
MADANPUR KHADAR
MAHIPALPUR
SARITA VIHAR