New Delhi:
Prime Minister Narendra Modi is addressed the 59th edition of his monthly radio programme ''Mann Ki Baat''. The Prime Minister had asked people to share their ideas for the programme. "Do tune in tomorrow at 11 AM. #MannKiBaat," PM Modi tweeted on Saturday. The prime minister celebrated NCC Day on the programme and shared his experiences as a former cadet.

Here are the highlights of 59th Edition Of Mann Ki Baat
- Countrymen, welcome to Mann Ki Baat. Every 4th Sunday of November is celebrated as NCC Day: PM Narendra Modi.
- Our youth remembers the friendship day without fail. There are some who also remember NCC Day in a similar way. I congratulate all the current cadets and former cadets on NCC Day: PM Modi
- I am also fortunate that I have been an NCC Cadet in my village school, that's why I know this discipline and uniform, and due to that the confidence rises.
- The Armed Forces Day is celebrated on December 7. We remember our soldiers' sacrifice and courage this day.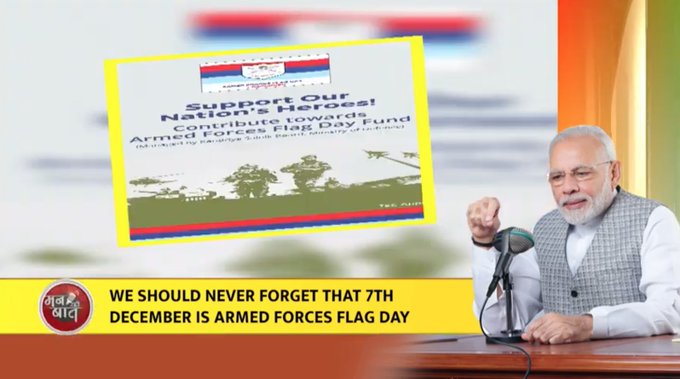 - Let's express our gratefulness towards the courage and dedication of the Armed Forces this day: PM Modi.
- Post Ayodhya verdict on 9th November, 130 crore Indian again proved that nothing is more important than country's interest. The morals of peace, unity and harmony are above everything: PM Modi.
PM Modi encourages people to use mother tongue
- "Recently I read a story about Uttarakhand's Dharchula. This story tells us how some people are coming forward to promote their language. Dharchula got my attention because I used to stay there," PM Modi said.
- "There are a lot of people of Rung community living in Pithoragarh's Dharchula. These people converse in the local language called Runglo. They used to get sad knowing that people speaking the language were reducing. So one day, all resolved to protect their language and very soon many rung community people joined this mission," he added.
- "You will be surprised to know that there are around 10,000 people in this community only. But each of them got together to protect their language. Be it 84-year-old Deewan Singh or 22-year-old Vaishali Garbyal, everyone got involved. Social media was also used and Whatsapp groups were formed and many people were associated," the Prime Minister further said.
Never had desire to enter politics: PM Modi
- Answering one of the cadets, PM Modi said, "..every child goes through multiple phases in life. Sometimes one wants to become this, sometimes one wants to become that, but it is true that I never had the desire to enter politics, nor I ever thought about it," he said.
- PM Modi said that "due to Google", his reading habits have suffered as there is a shortcut available to find references.