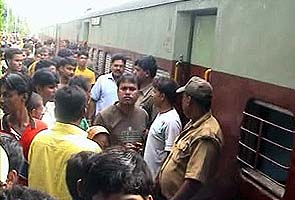 Kolkata:
A passenger in West Bengal was beheaded today when it was entering Bazarshaw station in Murshidabad district.
Khokon Ghosh's head was cut off by a group of men in a compartment packed with other passengers. The killers managed to escape after murdering the 37-year-old.
Eyewitnesses have told the police that there were seven or eight attackers.
The police believes the man who died may have been murdered over a business dispute.
The train is now parked at a station near where the assailants disembarked, while the police hunts for the killers.
(With inputs from PTI)