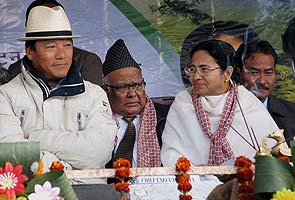 Darjeeling:
Mamata Banerjee's tough talk in Darjeeling has the Gorkha Janamukti Morcha (GJM) up in arms; it has threatened a fresh movement for a separate Gorkhaland state and warned of "violence and bloodbath" if that demand is not met.
The West Bengal Chief Minister, on a four-day visit to north Bengal had been greeted in Darjeeling yesterday by slogan-shouting GJM members activists. She said during an address there that "We want Darjeeling to be united. We want (entire Bengal) to remain united. Darjeeling is a part of us... Darjeeling is a part of West Bengal."
GJM chief Bimal Gurung said today, "What will they do? Get the police to fire on us? If that be, we are ready to die...But we will not sell our conscience." Mr Gurung said his party had been running a "peaceful movement" but "we will not sit quiet until we have our Gorkhaland." A decision on intensifying the movement would be taken by February 12, he said.
Another GJM leader Vinay Tamang said, "We have lost all faith in the chief minister, especially after what happened yesterday. If our demand for a separate Gorkhaland is not met, things can take a turn for the worse, for which the state and the central government will be responsible."
The GJM leadership is annoyed at what it calls Ms Banerjee's stepping on the toes of the new Hill Council GTA by doling out sops. A GJM delegation, led by its general secretary Roshan Giri and women's wing chief Asha Gurung, is currently demonstrating at Delhi's Jantar Mantar, where too they have warned of grave consequences if their demand for Gorkhaland as a separate state is not met.
"GTA was never our demand. The responsibility will be on the Bengal and central governments for I don't know what will happen if Gorkhaland does not materialise," Asha Gurung said in Delhi.
The long-standing demand that a separate Gorkhaland state be carved out of the northern West Bengal Hills has led to the loss of many lives over the past two decades. The region's tea, timber and tourism industries have all taken a hit because of the agitation.
On July 18 last year, a tripartite agreement was signed between the GJM, and the state and central governments for setting up a new autonomous, elected GTA -- a hill council armed with more powers than its predecessor, the Darjeeling Gorkha Hill Council, formed in the late 1980s.
The GJM now runs the GTA with Bimal Gurung as its chief, after sweeping its maiden elections last July.