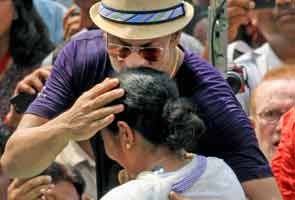 Kolkata:
West Bengal Chief Minister Mamata Banerjee once again batted for Bollywood star Shah Rukh Khan when she requested Union Minister Vilas Rao Deshmukh for reconsideration of the Maharashtra Cricket Association imposing 5-year ban on the entry of IPL franchisee Kolkata Knight Riders owner to the Wankhede stadium.
Mr Deshmukh is the president of the Maharashtra Cricket Association.
Ms Banerjee took up the matter with Mr Deshhmukh, the Union Science and Technology Minister who had accompanied the Prime Minister Manmohan Singh during the latter's three-hour visit to the city on Saturday, sources said.
Shah Rukh Khan, also West Bengal's brand ambassador, was slapped a five-year ban by MCA on entering the Wankhede stadium after getting into an alleged scuffle with the MCA after a match against Mumbai Indians in the recent IPL tournament.