New Delhi:
Highlights
Sonia Gandhi to host meet to discuss opposition candidate for president
Mamata Banerjee meets PM Modi in Delhi
Backs a 'consensus candidate', backed by opposition, government
A day before opposition parties meet in a big show of strength over lunch hosted by Congress president Sonia Gandhi to discuss a joint candidate to field for President, West Bengal Chief Minister Mamata Banerjee has pitched for a consensus candidate - one supported by both opposition parties and the government.
It was not a complete surprise. Ms Banerjee had just emerged from a meeting with Prime Minister Narendra Modi, one that she insisted focused "only on the development of Bengal and not on politics." Before that meeting, sources close to her said her Trinamool Congress' support will depend on who the opposition's candidate is and whether a consensus can emerge around the person's name.
"The President is the custodian of the Constitution and it will be very good for the entire country if we have a consensus candidate much like APJ Abdul Kalam," said Ms Banerjee, reiterating that she did not discuss the presidential election with the Prime Minister.
"It's for the PM to decide and understand the need for a consensus," she said.
The Congress is yet to comment on Ms Banerjee's latest stand, no doubt a trifle nonplussed. But sources said the new Mamata Banerjee formula will be discussed at today's lunch meeting in Parliament House. Ms Banerjee is in Delhi primarily to attend Mrs Gandhi's lunch, which is being as a symbol of opposition unity on the day the Modi government completes three years in power. The appointment with the Prime Minister was reportedly confirmed only yesterday.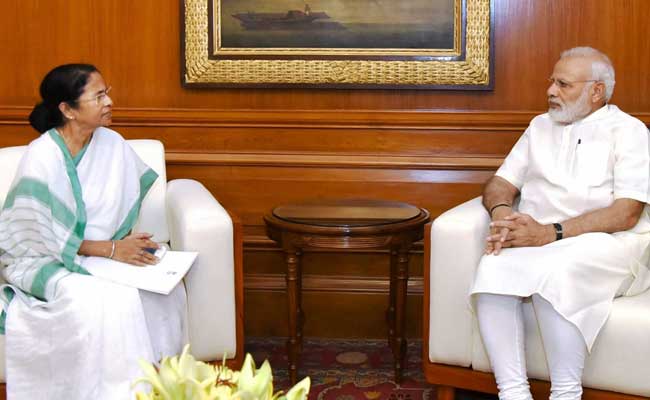 The West Bengal Chief Minister had during a visit to Delhi last week met Mrs Gandhi and reportedly backed the plan to field a joint opposition candidate to take on the BJP-led National Democratic Alliance's nominee. She had also met Aam Aadmi Party convener and Delhi Chief Minister Arvind Kejriwal, not the best of friends with the Congress, into the Opposition initiative.
Bihar politician Lalu Yadav, also in Delhi for Mrs Gandhi's lunch, confirmed that finalising a candidate was on the agenda of Opposition leaders, who will meet today over lunch and then next weekend in Chennai for DMK chief M Karunanidhi's 94th birthday.
Bihar Chief Minister Nitish Kumar, the other opposition leader who had suggested a consensus candidate - he pitched for a second term for President Pranab Mukherjee and said the government should take the lead on that - is not attending Mrs Gandhi's lunch party. His senior colleague Sharad Yadav will represent their Janata Dal United; Mr Kumar RSVPed to say that he had prior engagements.
President Mukherjee, whose term ends in July, indicated on Thursday that he is not in the race for a second term. "I have exactly two months to go. July 25, a new President will assume office. I am sending back officials who have worked with me, back to their ministries and departments," the President said while speaking at a event in Delhi.
President Mukherjee is believed to have indicated that he would only consider a second term if nominated by the government. The ruling National Democratic Alliance has not announced a candidate yet, but the BJP is keen to put one of its own in the Rashtrapati Bhavan. All Presidents except Dr Kalam, who was a scientist, have had Congress links before they took over as President, including President Mukherjee.