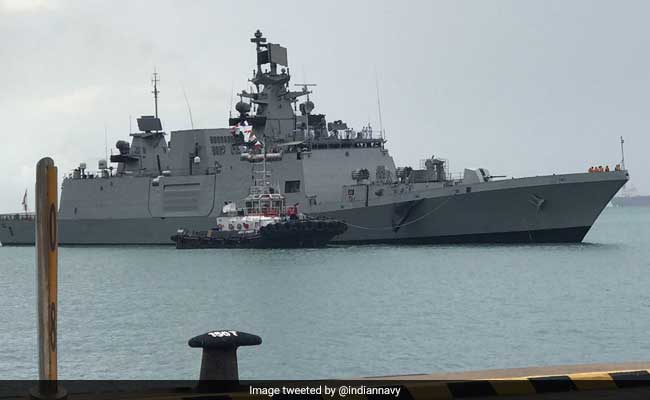 New Delhi:
After ignoring India's repeated appeals to roll back the emergency it imposed earlier this month, Maldives has declined New Delhi's invitation to participate in a naval exercise next month.
As India gears up to host navies from 16 countries, Maldives was also sent an invite to attend
'Milan', an eight-day naval exercise,
but it has declined, Navy Chief Admiral Sunil Lanba said today. "Maldives has not given any reason for the decision," the Navy Chief said.
The biennial naval exercise, that was first held in 1995 with just five navies, aims to expand regional cooperation and combat unlawful activities in critical sea lanes.
Australia, Malaysia, Mauritius, Myanmar, New Zealand and Oman are among the countries that have confirmed their participation in the joint activity that starts March 6 in Andaman and Nicobar Islands.
The latest development is a reflection of a strain in ties between India and Maldives, which recently extended the state of emergency by 30 days. New Delhi had termed Maldives' decision a "disturbing" development and tried to persuade the tiny island nation to restore democracy.
However, the Maldives government called India's description of the 30-day extension of Emergency as "unconstitutional" "a clear distortion of facts" and accused New Delhi of ignoring "facts and ground realities". In a
strongly-worded statement
, the Maldives Foreign Ministry asked friends and partners including India to "refrain from any actions that could hinder resolving the situation facing the country".
Maldives, popular for its sparkling beaches and luxury resorts, plunged into crisis after President Abdulla Yameen refused to comply with a five-judge verdict of the Supreme Court quashing terrorism convictions against nine leading opposition figures, including the exiled former Maldivian president Mohamed Nasheed. It was seen to pave the way for the return of Mr Nasheed, who was the country's first democratically elected president.
Instead, Mr Yameen imposed an emergency on February 5 and ordered the arrest of two of the five judges along former president Maumoon Abdul Gayoom, who had sided with the main opposition.
Since then, the remaining judges of the top court have surrendered their power to decide cases individually and struck down provisions of the Supreme Court verdict that had triggered the crisis for President Yameen.
The court has also restored convictions against the nine opposition leaders, ruling that there was nothing wrong in the Emergency and cancelled the memberships of the 12 members who had crossed over from the ruling party to the opposition.