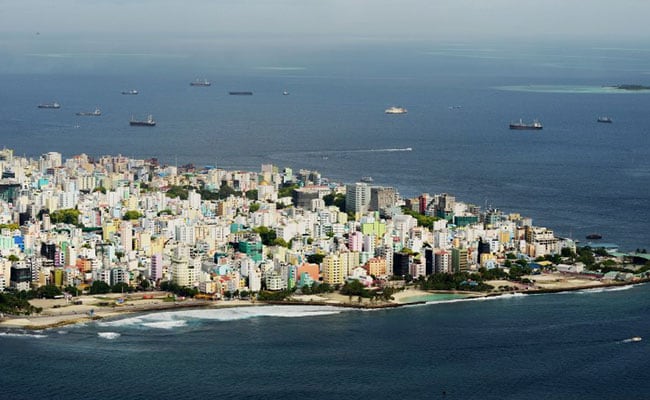 Highlights
Maldives accused India of ignoring "ground realities" about Emergency
It was Maldives first direct response to India's statement on Emergency
India had called the 30-day extension of Emergency as "unconstitutional"
NEW DELHI:
In a scathing rebuttal, the Maldives Government on Thursday called India's
description of the 30-day extension of Emergency
as "
unconstitutional
" "a clear distortion of facts" and accused New Delhi of ignoring "facts and ground realities" in the tiny island nation.
The strongly-worded statement issued by Maldives Foreign Ministry also asked friends and partners including India to "refrain from any actions that could hinder resolving the situation facing the country".
This is the first time that crisis-hit Maldives has directly responded to the Indian government's statement on the imposition of Emergency.
"The Government of Maldives takes note of the
public statements issued by the Government of India
that ignore the facts and ground realities with regard to the ongoing political developments in the Maldives," the statement said.
New Delhi, which had earlier called the
imposition of emergency
by the Abdulla Yameen government a "disturbing" development, had yesterday held his government's decision to extend Emergency to be "in contravention" with its Constitution.
Today, New Delhi reiterated the point, declaring that India "did not see any valid reason" for the Maldives government to extend emergency.
"We... would continue to urge the government of Maldives to release political prisoners, release the Chief Justice, implement the Supreme Court and restore the normal functioning of the institutions of democracy," Raveesh Kumar, the spokesperson of India's Foreign Ministry said.
New Delhi's stress on releasing the Chief Justice was significant because Maldives insists he was arrested for corruption. India's official stand underlines that New Delhi wasn't convinced by this explanation.
Maldives President Yameen had initially imposed the emergency on February 5 for 15 days to annul a Supreme Court ruling that quashed convictions against nine opposition leaders and ordered his government to free those held in prison. Among them was exiled ex-president Mohamed Nasheed. The court had also reinstated 12 members unseated from the parliament last July for floor-crossing.
President Yameen's soldiers had responded by sending soldiers to storm the top court and arrest the judges. The country's two senior judges including Chief Justice and former President Maumoon Abdul Gayoom have been charged with bribery.
Since then, the remaining judges of the top court have, one by one, surrendered their power to decide cases individually and struck down provisions of the 1 February Supreme Court verdict that had triggered the crisis for President Yameen.
The court has also restored convictions against the nine opposition leaders, ruling that there was nothing wrong in the Emergency and gone on to again cancel the membership of the 12 members who crossed from the ruling party to the opposition.