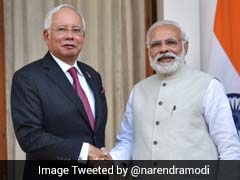 New Delhi:
Malaysia and India today urged countries to resolve the South China Sea dispute without resorting to threat, by exercising self-restraint in the conduct of activities and avoiding unilateral actions that may
increase tensions.
They also emphasised that all parties should show utmost respect to the United Nations Convention on Laws of Seas (UNCLOS), 1982 which establishes the international legal order of the seas and oceans.
Malaysia is one of the claimants to the disputed Spratly Islands in the South China Sea.
The two leaders reiterated their commitment to respecting freedom of navigation and overflight, and unimpeded lawful commerce, based on the principles of international law and UNCLOS.
Prime Minister Narendra Modi said the two sides were conscious of their role and responsibility in promoting economic prosperity, freedom of navigation, and stability in the Asia-Pacific region, especially its oceans.
The two leaders also welcomed the strong cooperation in the areas of defence and security and resolved to conclude an MoU on Cooperation in Combating Terrorism and Transnational Crime, apart from agreeing to finalise the Treaty on Transfer of Prisoners.
They also welcomed operationalisation of mechanism for sharing information intelligence, including for Humanitarian Assistance and Disaster Relief (HADR) and white shipping.
White shipping information refers to exchange of relevant advance information on the identity and movement of commercial non-military merchant vessels.
"Our wide ranging defence partnership has already brought our armed forces closer. We are cooperating in training, capacity building, maintenance of equipment and military hardware, maritime security and in disaster response," PM Modi
said.