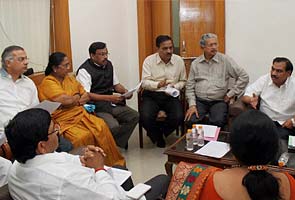 Nagpur:
Major opposition parties in Maharashtra have come up with a "black paper" to counter the White Paper brought out last month by the state Water Resources ministry, claiming that the government document was a dud as it sidestepped the irregularities in irrigation projects.
The document was released today by major opposition parties, like the BJP, Shiv Sena, MNS and PWP, in Nagpur on the eve of the winter session of the state legislature.
Senior NCP leader Ajit Pawar, against whom the allegations of corruptions were levelled in connection with approving the irrigation projects with cost overruns, had stepped down as deputy chief minister in September only to make a comeback recently.
"White Paper is the misleading document and does not mention any irregularities in irrigation projects," said Eknath Khadse, the Leader of Opposition in Maharashtra Legislative Assembly and Vinod Tawde, his counterpart in Legislative Council.
Reiterating the demand to launch an SIT probe into irrigation scam, the BJP leaders criticised the state government for "defending" Ajit Pawar.
"It is disappointing to note that even after spending a whopping Rs 70,000 crore, the irrigation potential rose by mere 0.1 per cent which is disgusting," they said.
Accusing Chief Minister Prithviraj Chavan of "succumbing" to NCP pressure to reinstate Ajit Pawar as deputy chief minister, Mr Khadse said, "The white paper was an eyewash. This government did not even bother to respect the directives of Governor not to allot new works and went ahead awarding the projects".
"We had levelled serious allegations against Ajit Pawar that prompted the government to bow to the demand of bringing out the white paper, leading to Mr Pawar's resignation," he said.
Mr Khadse claimed that while about 81 per cent of revenue was being spent on salaries, allowances, travel and tours of ministers, only 19 per cent is left to carry out developmental activities.
"The government has failed to keep its promise to make Maharashtra load-shedding free by December 12. After irrigation, the power sector is another area where corruption is rampant," he said, adding, the state-owned power companies are indulged in irregularities totalling Rs 7,000 crore.
He said the BJP would raise the issues concerning Vidarbha on the floor of the House.
When asked about the opposition not attending Ajit Pawar's swearing-in ceremony in Mumbai, Mr Tawde said, "We did it to express our anger at his coming back though it was the breach of protocol".