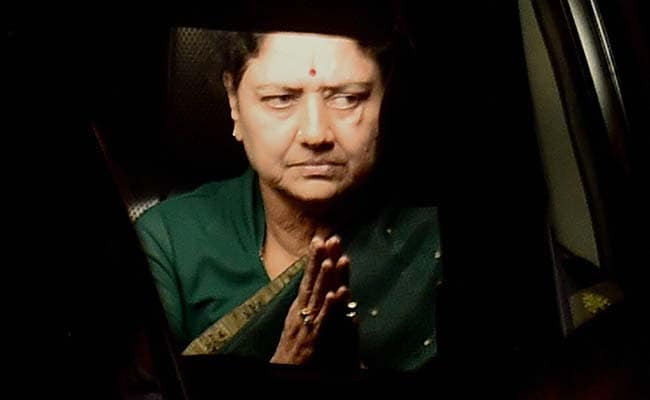 Highlights
VK Sasikala, the party's official chief, is currently in jail
AIADMK General Council will decide Ms Sasikala future in party
Any decision in AIADMK meet will be subject to our decision: High Court
Chennai:
A meeting of Tamil Nadu's united AIADMK -- which is expected to sack its jailed leader VK Sasikala -- will be held today as scheduled, the Madras High Court has ruled. On Monday, the court dismissed a petition by a legislator loyal to Sasikala and her nephew TTV Dhinakaran -- the sidelined number 2 of AIADMK -- asking that it put a stop to the Tuesday's General Council. Lawmaker V Vetrivel, who filed the petition, has been fined Rs 1 lakh for wasting the court's time.
But there is a postscript: Any decision by the General Council, the court said, will be subject to its decision, which may be announced during the next hearing on October 23.
Earlier on Monday, a court in Bengaluru had put a freeze on the meeting in response to another petition by Sasikala loyalists.
The united AIADMK, which is led by Chief Minister E Palaniswami and his predecessor O Panneerselvam, said they would stick to the Madras High Court order.
The expulsion of Ms Sasikala has been one of the key conditions of the merger by the faction led by OPS, as Mr Pannerselvam is popularly known. But the attempt to execute it has brought Mr Palaniswami's government to the brink of crisis.
Mr Dhinakaran, who claims to have the support of 19 legislators, has joined his voice to the opposition DMK to say that Mr Palaniswami no longer commands majority in the assembly and must submit to a trust vote.
Last week, Mr Dhinakaran met Governor C Vidyasagar Rao for the second time to demand that he convene the assembly for a floor test. The trouble was triggered hours after the two factions shook hands over a deal last month. The Dhinakaran loyalists rebelled, met the Governor and demanded that he replace the Chief Minister.
DMK chief MK Stalin, who met the Governor on Sunday, says together with Mr Dhinakaran, they have 119 legislators. The halfway mark in the 234-member assembly since the death of former Chief Minister J Jayalalithaa stands at 117.
The larger faction of AIADMK led by the Chief Minister says they have the covert support of nine lawmakers from the Dhinakaran camp and hence a majority figure of 124.