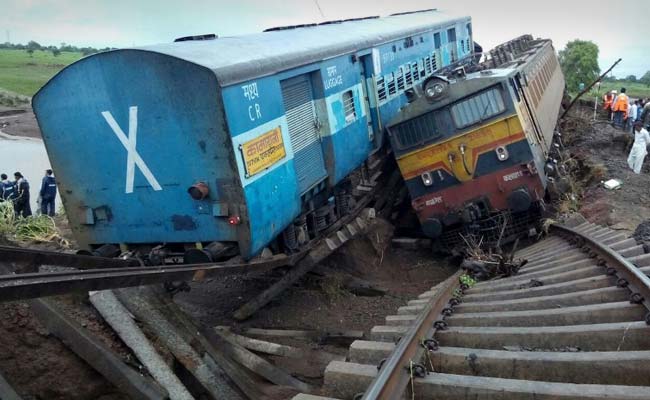 Bhopal:
A group of villagers saved over 70 passengers' lives after two trains derailed and many coaches fell into a river in Madhya Pradesh's Harda district.
Chief Minister Shivraj Singh Chouhan, who visited the accident site, appreciated the courage and help extended by the villagers in saving so many lives in such an adverse situation.
The derailment of the Kamayani Express and the Janata Express claimed 27 lives and left around 70 people injured.
"A group of 20 youths, from nearby villages of Neemsara and Mandla, reached the accident site after one of them noticed a big light at one point in the Machak river and suspected something untoward might have occurred and called other villagers for help," Vipin Patel, one of youngsters, told reporters here.
"Since villagers were awake due to heavy rainfall, the 20 youngsters lost no time in reaching out to the affected passengers," he added.
"On reaching the site, they noticed many passengers trapped in the coaches which were quickly getting filled by river water. The youngsters used ropes to reach out to the trapped passengers and managed to safely bring out over 70 people from the coaches," said Rajkumar, another youngster.
Villager Govind said if the initial rescue work was not launched by the local people, the toll could have been much higher.
Police and railway personnel could reach the accident site about three hours after the villagers started their rescue work, he added.
Meanwhile, Narmada Bachao Andolan activist and Aam Aadmi Party member Alok Agarwal blamed the state government's carelessness for the train accident.
"The located on the Narmada river, was filled up to its maximum level ahead of the prescribed time which prevented the Narmada's water from returning into the dam. Instead, it went on to raise the water-level in the Machak river which made this river water reach rail bridge and the rail tracks," he said.
"According to the manual of filling water in the dams, the Indira Sagar dam should have been filled up to 258 metres till August 31, and 262 till September 30. But till Tuesday night, the water level had been raised to 261 metres," he added.