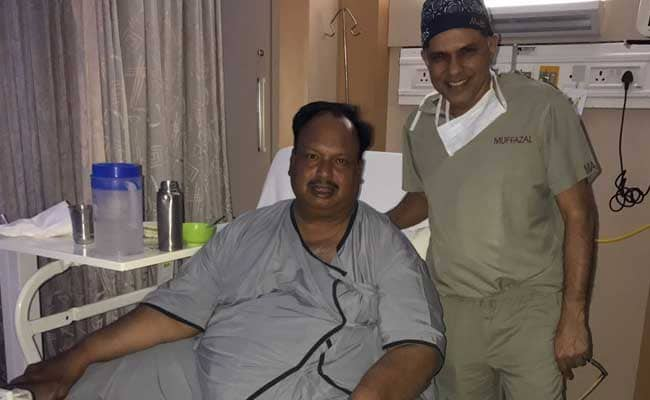 Neemuch, Madhya Pradesh:
The Madhya Pradesh police officer who was
fat-shamed by writer-columnist Shobhaa De
on Twitter has been admitted to a private hospital in Neemuch, Madhya Pradesh after he took ill.
Inspector Daulatram Jogawat, the officer, had fever for the last five days and his food intake had come down to almost zero, said Dr Vipul Garg of Garg Nursing Home where he was admitted last night.
"We are in touch with experts from Saifee Hospital in Mumbai where he underwent gastric bypass surgery on March 2," Dr Garg added.
"The officer is responding to treatment and is out of danger," he said.
Mr Jogawat, 58, weighed 180 kg before he went under the knife.
Last month, De tweeted picture of an overweight Jogawat in uniform, mocking the Mumbai police for "heavy bandobast" on a polling day in the city. Mumbai police pointed out that he was an inspector with the Madhya Pradesh police.
Mr Jogawat had said he was hurt, and that he was not obese because of overeating.
"I am hurt with Shobhaa De's tweet poking fun at me. I have put on weight due to hormonal disorder following my gall bladder operation in 1993," the inspector, who weighs around 180 kg, had told the Press Trust of India.
After these tweets went viral, Dr Muffazal Lakdawala of Saifee Hospital offered to perform gastric bypass surgery on him. The surgery reduces the volume of stomach cavity to curb food intake.
"My team and I will ensure that the best medical treatment is given to him and hope that he should be on the road to recovery very soon," Dr Lakdawala had said.
(This story has not been edited by NDTV staff and is auto-generated from a syndicated feed.)