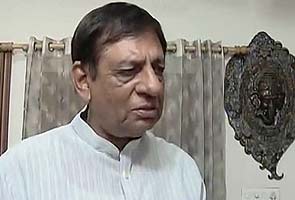 Muzaffarnagar:
Among the politicians accused of provocative speeches that unleashed deadly communal violence in Muzaffarnagar in Western Uttar Pradesh is Hukum Singh, a senior leader of the BJP and a state legislator.
Mr Singh told NDTV that he learnt from media reports that he features in a list of politicians in an FIR or police case on the riots in which 28 people have been killed. "The government is looking for scapegoats. I have been appealing to the public to let peace return. I have not caused communal tension ever," he said.
The police says these leaders- who include four from the BJP and one from the Congress - made incendiary remarks at a meeting on Saturday of thousands of jat farmers. On their way home, the farmers were attacked. The violence that evening led to 13 deaths; the rest were killed with sticks, knives and guns in villages around the main Muzaffarnagar town, where the army is patrolling.
Mr Singh admits that he was present at the maha-panchayat on Saturday evening but denies making any provocative remarks. "My speech was recorded. If a single inflammatory word is found in it, I will retire from politics."
The gathering was illegal because the government had banned large public meetings after three men died in Muzaffarnagar on August 27 after a fight over protecting a woman who was reportedly being sexually harassed. Since then, however, Muslim and Hindu leaders both held meetings which fanned the seething tension.
Mr Singh is not apologetic about attending Saturday's farmers' rally which ignited this weekend's riots. "Senior district officials of Uttar Pradesh were present. If those meetings were illegal, they should have stopped them," he said.