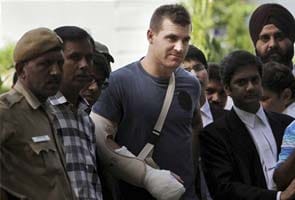 New Delhi:
A Delhi court today granted bail to Royal Challengers Bangalore player Luke Pomersbach, who is accused of molesting an US citizen named Zohal Hameed on Thursday night. The court after examining the CCTV footage from the five-star hotel said today that there is no evidence of criminal trespassing against the 27-year-old Australian cricketer.
Mr Pomersbach, who has said that the charges against him are false, got bail against two sureties of Rs 30,000 each.
However, the cricketer, who appeared in the court today with a red
tika
on his forehead, will have to surrender his passport and stay in the country till the case is on. "I have been here for a while now," a smiling Mr Pomersbach told the media today after the court's order.
"I was very disturbed by these charges. The last two days were horrible. I have a good friend back home. She didn't need to hear this. I spoke to her and explained," he said.
The CCTV footage seen by the judge today shows three men including Mr Pomersbach, and a woman believed to be Ms Hameed entering the complainant's room at 5:15 am on Friday morning. After 15 minutes, the Aussie cricketer reportedly comes out, only to return at around 6:30 am. The CCTV footage shows Mr Pomersbach knocking on the door but is pushed back.
After the footage was shown in the court, Ms Hameed's lawyer said that there was another witness to the alleged incident and the cricketer might try to influence or harm him. Mr Pomersbach's lawyer argued that the court must keep in mind that all of those involved were in an inebriated state and this would not have happened under 'normal' circumstances.
The police today submitted the medical reports in the case.