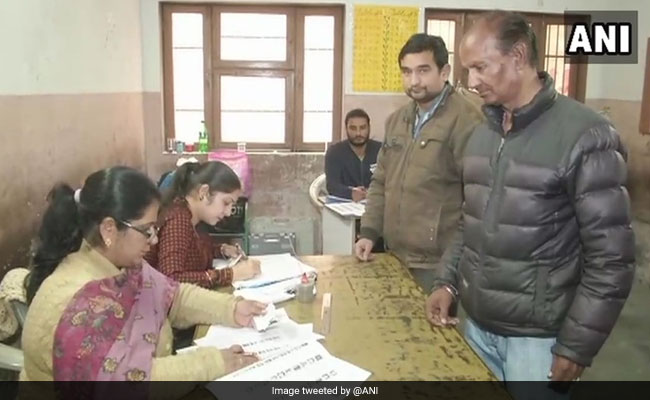 Ludhiana:
Voting for the biggest municipal body in Punjab,
the Ludhiana Municipal Corporation
, began today morning at 8 AM and will continue till 4 PM. A total number of 494 candidates, belonging to the Congress, the Shiromani Akali Dal (SAD), the Bharatiya Janata Party (BJP), the Aam Aadmi Party (AAP) and the Lok Insaf Party will be contesting the elections from 95 municipal wards. 1,153 polling stations have been created for voting for the 10.5 lakh voters in Ludhiana, who are eligible to cast their votes.
Apart from the Ludhiana civic polls, by-polls in the two wards of Payal and Jagraon municipal councils will also be held.
Civic issues like pollution, poor infrastructure including bad roads and sewerage problems and water supply are the main issues that hold importance for the voters.
Government offices, corporations and educational institutions will remain shut today as will hotels, restaurants and clubs, which have been asked to not serve any liquor. A dry day will also be observed on the day the results for the Ludhiana civic polls will be declared. Dry days would be observed in Ludhiana, Jagraon and Payal today and on the counting day.
Security measures have also been taken to ensure a peaceful polling, according to a senior official. Around 4,500 policemen have been deployed to ensure no disturbances occur, said the official.
Apart from the policemen, around 5,400 civil administration employees are also engaged in the entire election process, according to District Electoral Officer-cum-Deputy Commissioner Pradeep Kumar Agrawal.
Mr Agrawal said nine strong rooms would be setup, where the electronic voting machines would be kept till the counting day. In the strong rooms, CCTV cameras would also be setup for round-the-clock supervision.
Apart from one instance of a candidate's husband being attacked yesterday, the run-up to the polling has largely been peaceful. Two unidentified motorcycle-borne assailants had allegedly attacked the husband of Monika Ghumber, who is a Shiv Sena (Hindustan) candidate from Ward Number 31, the police had said.
The Congress, which is in power in Punjab since last year, is set for a face-off against the BJP-SAD combine and the AAP-Lok Insaf alliance in the Ludhiana civic polls. The Congress had earlier won municipal elections in the Amritsar, Patiala and Jalandhar corporations in December. The party had also tasted victory in 20 out of 29 Municipal Councils and Nagar Panchayats.
(With Inputs From Agencies)