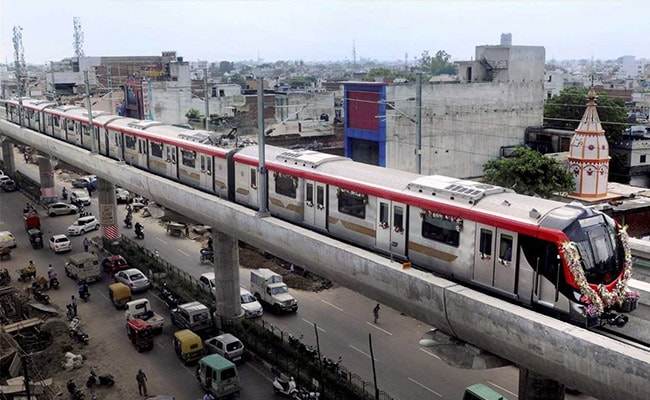 Highlights
Rajnath Singh and Yogi Adityanath flagged off Phase I of Lucknow Metro
The 8.5 km stretch will be open to public from Wednesday
Phase 1 of metro will eventually connect Charbagh station to CCS Airport
Lucknow:
Union Home Minister Rajnath Singh and Uttar Pradesh Chief Minister Yogi Adityanath opened Lucknow Metro this afternoon. The 8.5 km stretch will be open for public from Wednesday. In his address, the Chief Minister said the state is exploring the possibility of opening metro services in at least eight other cities, including Varanasi, Prime Minister Narendra Modi's constituency. "I devote this metro service to Vajpayeeji," he said, referring to former Prime Minister Atal Bihari Vajpayee, who had represented Lucknow in the Lok Sabha.
Here are the top 10 updates in this big story on Lucknow Metro Rail:
In his address, Yogi Adityanath said, "The smartness of Lucknow has increased after the launch of metro services here and it has become a Smart City".

Listing the upcoming infrastructure projects for Lucknow city, Union minister Rajnath Singh mentioned 7 flyovers and four new rail tracks. "The transportation infrastructure should provide last mile connectivity in this city. I'm working towards this goal," he said.

For now, the Lucknow Metro connects the Charbagh railway station to Transport Nagar. It would eventually stretch to the Chaudhary Charan Singh International Airport, which would be two stations away.

The 8.5-km stretch, with eight elevated stations, has been dubbed the "Priority Corridor". Part of the Phase 1 of the Lucknow Metro project, the stretch took around three years to complete. The Lucknow Metro Rail Corporation has called it a record.

The metro services will be open to the people from 6 am to 10 pm every day. The highest fare, between the two terminal stations, is Rs 30.

The state has also proposed an umbrella body which would explore the launch of metro services in several other cities, including Varanasi, Kanpur, Agra, Moradabad, Allahabad, Meerut, Gorakhpur and Jhansi.

The Chief Minister has requested metroman E Sridharan to be the principal advisor to the umbrella body. The corporation will also explore the possibility of starting monorail services in some parts of the state.

"In place of separate metro corporations, we will constitute an UP Metro Corporation to run the metro services in the state," Chief Minister Yogi Adityanath said. Work on the other phases of the Lucknow Metro project will be completed soon, he added.

Ahead of the assembly elections in the state, former chief minister Akhilesh Yadav and his father Mulayam Singh Yadav had flagged off the trial run of the Lucknow Metro in December. It was meant to be showcased as a signature project of then Samajwadi Party government.

Yesterday, in a series of tweets, Akhilesh Yadav indicated that the credit for the metro services belongs to his government. "We had run engine, bogies had to follow," he tweeted.