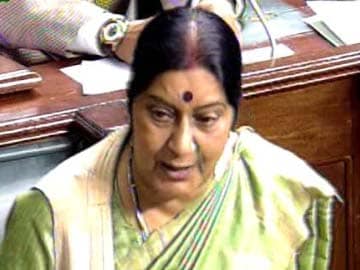 New Delhi:
Senior BJP leader Sushma Swaraj today met President Pranab Mukherjee to escalate her party's opposition to the Prime Minister's choice of a jurist for the Lokpal panel that will select the national anti-corruption ombudsman.
The BJP had recorded in writing its objection to the appointment of Supreme Court lawyer PP Rao as a member of the Lokpal selection committee, a decision that has reportedly been endorsed by the party's top leaders including Narendra Modi, its prime ministerial candidate.
At a meeting on Monday evening, Sushma Swaraj, Leader of Opposition in Lok Sabha, was outvoted 3-1 on the choice of Mr Rao, whom she described as a "Congress loyalist who had appeared in court for the ruling party several times."
Prime Minister Manmohan Singh, Lok Sabha Speaker Meira Kumar and Justice HL Dattu, the Chief Justice of India nominee, had all voted in favour of Mr Rao.
BJP had suggested the names of former attorney general K Parasaran, former solicitor general Harish Salve or even eminent jurist Fali Nariman for the panel.
The Lokpal Bill, passed by Parliament last December, provides that the national ombudsman and his team will be selected by a panel comprising the PM, Lok Sabha Speaker, the Leader of Opposition in the Lok Sabha, the Chief Justice of India or his nominee and a fifth member, a jurist, picked by these four.