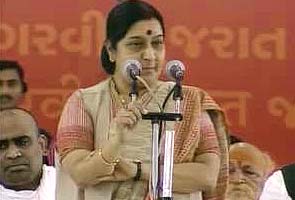 New Delhi:
The RSS would like Nitin Gadkari to continue as BJP president for an unprecedented second term, but his detractors in the party, some of them frontline leaders, are not giving up just yet. The party's senior-most leader LK Advani has proposed that Sushma Swaraj be made the next party president instead, sources say.
Sources say Mohan Bhagwat, the chief of the Rashtriya Swayamsevak Sangh or the RSS, the ideological parent of the BJP, spoke to Mr Advani on Saturday. Mr Advani, who fronted the party's campaign against the Congress-led ruling UPA on the corruption plank, is one of those opposed to a second term being handed to Mr Gadkari, who faces charges of corruption and impropriety in business dealings.
The lack of consensus on any one name within the party, apart from the deciding vote of the RSS, could swing things Mr Gadkari's way. Mr Advani reportedly suggested Mrs Swaraj's name after saying a firm no to the proposal that Mr Rajnath Singh could be the next BJP president. Mrs Swaraj is the Leader of the Opposition in the Lok Sabha.
The RSS has reportedly prepared a leadership blue-print for the BJP with Mr Gadkari as president and Gujarat Chief Minister Narendra Modi as the head of the BJP's campaign committee for the 2014 Lok Sabha elections. There have been reports that an announcement is planned for February.
Till last month, as corruption charges piled up against him, the RSS-sponsored second term for Mr Gadkari looked impossible. He faced not just scathing criticism from political rivals, but also rebellion within the BJP, with senior leaders like Yashwant Sinha suggesting that he resign. The RSS is said to have argued that if Mr Gadkari has been able to continue as the party chief so far, there is no reason why he cannot do so for the next three years.
The RSS had handpicked Mr Gadkari to be BJP president in 2009, in an assertion of its might within the saffron family. Many top BJP leaders had demurred then and when corruption charges surfaced against Mr Gadkari, who is also a Nagpur businessman, they made a case for his resignation and for denying him the second term.