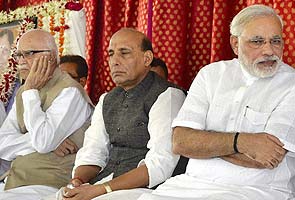 New Delhi:
The BJP's parliamentary board - a group of 12 top leaders who make all the crucial decisions in the party - meets for the first time today after Gujarat Chief Minister
Narendra Modi
's elevation as the party's campaign committee chief and the internal crisis the promotion had caused.
Narendra Modi will attend the meeting in Delhi today, which is expected to discuss election strategy and there is speculation that he could lay out the blueprint for the party's 2014 general elections campaign. The board is then expected to give broad approval to his campaign strategy so that he can begin work on it. The board's sanction will mean that Mr Modi will not have to come back to it for a sign-off every time he launches a new initiative.
Assembly elections are due in several big states by the end of the year and Mr Modi will also attend a meeting of party general secretaries to discuss campaign plans this evening. Sources said former party president Nitin Gadkari could be handed charge of Delhi, one of the states that vote in few months.
On the select team of top BJP leaders that meets this afternoon is also LK Advani, who had last month resigned from all party positions, including the parliamentary board, in protest against Mr Modi being given charge of the party's campaign committee.
The parliamentary board had rejected his resignation and Mr Adavni was cajoled out of his sulk after much effort from top leaders and an assurance from party president Rajnath Singh that Mr Modi's promotion did not signal that he was the fore-runner for being picked the BJP's prime ministerial candidate in next year's elections.