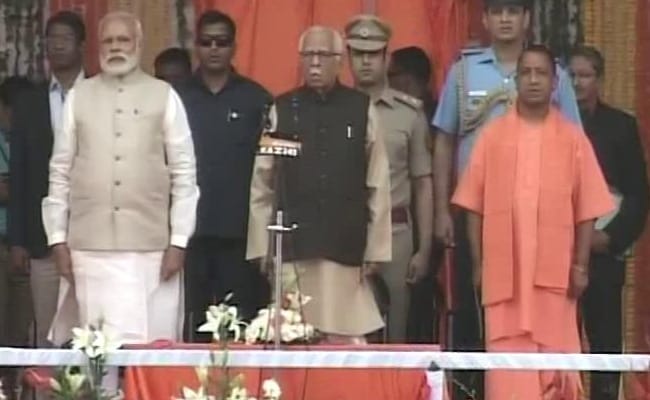 Yogi Adityanath
, a five-time parliamentarian was sworn in as
the new Chief Minister of Uttar Pradesh
today. The swearing-in happened in Lucknow a week after the BJP won a landslide mandate in the assembly elections with 312 seats. In a surprise announcement, Mr Adityanath's name was announced only last evening. His two deputies in Keshav Prasad Maurya, the party's UP chief, and Dinesh Sharma, Lucknow's Mayor also took oath. Mr Sharma is credited with leading the party's membership drive in the state.
After his name was announced for the top post, Mr Adityanath thanked Prime Minister Narendra Modi, who himself was an important part of the party's campaign in the state. "I will take UP forward with his motto of
sabka saath sabka vikas
," Mr Adityanath declared soon after he was announced the Chief Minister. He has been winning the Gorakhpur seat since 1998 and is the head priest of Gorakhnath Math. The politician-priest with his shaven head and trademark saffron robe has been the party's Hindutva mascot and consistently commissions headlines, usually because of his controversial statements.
Here are the highlights on new UP Chief Minister Yogi Adityanath:
We will serve the state with the motto Sabka saath sabka vikas: Yogi Adithyanath
Government will work for all section of society without any partiality, for this administration will be made accountable and answerable
The BJP government had vowed development though 'Sabka Saath Sabka Vikas', which will be taken forward
UP has been left out in the race of development
The previous government had indulged in corruption and family disputes and also derailed law and order in the state
We will fulfil all the promises we have made to the people of the state
The fruits of the absolute majority that has been given to the BJP will soon be seen
The government will work with utmost honesty to generate employment for youth
The BJP had presented the Lok Kalyan Sankalp Patra as its vision document ahead of the elections. All the promises will be fulfilled