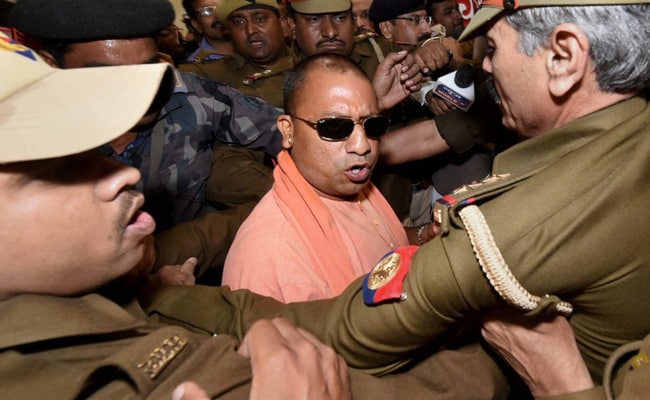 Highlights
Yogi Adityanath, five-time BJP MP, takes oath as UP Chief Minister
Is among the BJP's most popular leaders in UP but considered polarising
Has said development will be his foremost agenda
Lucknow:
Long before the BJP had sounded the poll bugle in Uttar Pradesh, the party carried out a survey in 2016 to figure out who would be a good choice for the party's
chief ministerial candidate
. Yogi Adityanath's name was among those who seemed to have the popular support.
But the party, sources said, wasn't sure. The five-time lawmaker from eastern UP was considered too much of a polarising figure and could have alienated certain other groups during voting. His supporters protested the party's refusal to name him as the presumptive chief ministerial candidate in an election fought on the development plank.
Some of his supporters -- who he later disowned -- claimed to have put up candidates against the BJP in nearly 20 seats.
The BJP mollified him, but did not budge.
In early March, BJP president Amit Shah campaigned in Gorakhpur driving down the town's narrow lanes in a truck draped in marigold, the firebrand leader by his side. That ride was meant to signal that Yogi Adityanath - who hasn't lost a Lok Sabha election - ranked high in party's pecking order.
Born Ajay Singh Negi on June 5, 1972, Yogi Adityanath is a science graduate from the Garhwal University in Uttarakhand. At age 21, he renounced his family to become a disciple of Mahant Avaidyanath, then the head priest of Gorakhnath Math, a Hindu temple in Gorakhpur. Following the death of the Mahant, whom Mr Adityanath considered his "spiritual father", he became the head of the Math.
Mr Adityanath has been winning the Gorakhpur seat since 1998. At 26, he was the youngest MP in the 12th Lok Sabha that gave Atal Bihari Vajpayee his first stint as Prime Minister but he wields considerable clout much beyond his constituency in eastern UP.
The politician-priest with his shaven head and trademark saffron robe has been the party's Hindutva mascot and consistently manages to stay in the headlines, usually because of his controversial statements. Rival parties accuse him of incitement. Yogi Adityanath was among the loudest campaigners against "Love Jihad", the term given by right-wing groups to describe what they allege is a strategy to convert Hindu women to Islam.
In the just-concluded UP election, when Prime Minister Narendra Modi accused the Samajwadi Party government of minority appeasement with his graveyards remark, Mr Adityanath went a step further alleging that the Samajwadi Party would divert money meant for development into developing
kabristans
(graveyards).
Though the BJP largely steered clear of the issue, Yogi Adityanath said a BJP government in Lucknow "will pave the way for the construction of a Ram temple in Ayodhya".
"Don't judge him by his saffron attire," BJP leader GVL Narasimha Rao said after his election as the chief minister-designate, brushing aside concerns that Yogi Adityanath's elevation was a sign that the party's plank for the 2019 elections might be religion, and not development.
Mr Adityanath might have a reputation for strong-arm tactics and divisive speeches, but his speeches in parliament that have ranged from complaining about steps that the government needs to take to check deaths from brain fever to educational facilities also reflect another side to his politics; a public representative who is closely in touch with the ground realities in his impoverished constituency.
As he returned from the Raj Bhavan after his election as the leader of the BJP legislature party, Mr Adityanath said, "I will take UP forward with PM's
sabka saath, sabka vikaas
(development for all) motto".