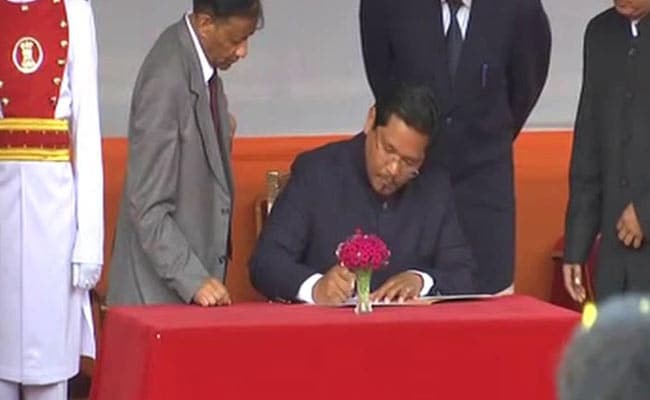 New Delhi:
Conrad Sangma, Chief of the National People's Party was sworn-in as the next Chief Minister of Meghalaya. He will not have a deputy, BJP leader Himanta Biswa Sarma announced after Mr Sangma staked claim to form government and received an invite. The Congress, which has been in power in the state for the last 10 years was not able to stitch a coalition in time despite emerging as the single largest party.
Union Home Minister Rajnath Singh and BJP President Amit Shah arrived in Meghalaya today to participate in the swearing-in ceremony of the National People's Party (NPP)-led government in the state, Assam BJP leaders said on Monday. Meghalaya threw up a fractured mandate on Saturday with the ruling Congress emerging as the largest party, marginally ahead of its rival, the NPP, an ally of the BJP at the centre and in Manipur. The Congress won 21 seats in the 60-member Assembly, making it the single-largest party, but it was 10 seats short of an absolute majority. A Lok Sabha member from Tura parliamentary constituency, Mr Sangma was the state's youngest Finance Minister in 2008 and was later leader of the opposition in the assembly.
Here are the highlights of Conrad Sangma's swearing-in:
Rajnath Singh also took to Twitter and congratulated Conrad Sangma after he took oath as the 12th Chief Minister of Meghalaya.
Congratulations and my best wishes to Shri Conrad Sangma on being sworn-in as the Chief Minister of Meghalaya. I am confident that he and his team of ministers will put the state back on a development track.

- Rajnath Singh (@rajnathsingh) March 6, 2018