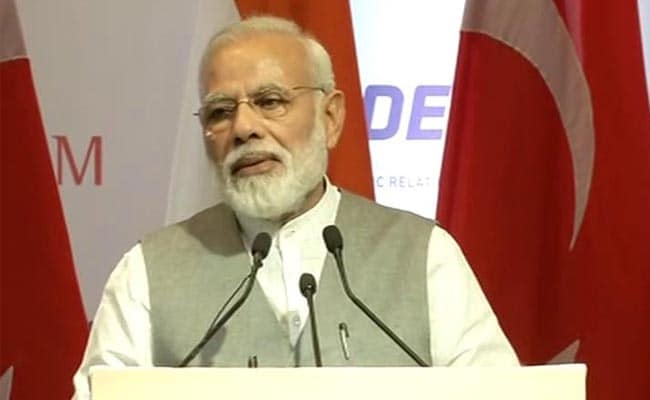 New Delhi:
Prime Minister Narendra Modi addressed the India-Turkey Business Forum, in the presence of business leaders as well as Turkish President Recep Tayyip Erdogan. Mr Erdogan is on his first state visit to India since 2008. He was earlier accorded a ceremonial welcome at the Rashtrapati Bhavan. This is also Mr Erdogan's first foreign visit after winning a controversial referendum in his country, which further consolidates his executive powers.

President Erdogan and PM Modi are expected to discuss economic ties, trade as well as the ongoing developments in Syria. Mr Modi will seek Turkey's support for India's membership in the Nuclear Suppliers Group (NSG). Turkey had earlier supported India's membership in the Missile Technology Control Regime (MTCR). However, ahead of talks with Prime Minister Narendra Modi today, the Turkish President controversially suggested a "multi-lateral dialogue" to resolve the Kashmir issue to ensure peace in the region.


Here are the live updates of PM Narendra Modi's Speech:
Bilateral trade between India and Turkey has gone up tremendously.
India and Turkey are among the 20 largest economies in the world. Both economies have shown remarkable stability.
There is immense goodwill for each other between the people of both countries.
The time has come to take our bilateral relations to the next level.
We are seeing an increase in presence of Turkish companies in India.
The Indian political system is known for its vibrant democracy. We are also a law-abiding nation.
We have launched several programs in India. The governments focus is to remove inefficiencies in our system and make it a great investment destination.
Our global rankings have become much better in the last few years. I am certain that it will get even better in the time to come.
Our aim is to create an efficient business environment in India.
India is seeing a major push for better infrastructure and Turkish companies can be a part of this massive exercise.
We are building more than 30 million homes, developing new airports and sea ports, modernising our railways, building highways across the country at a rapid pace. Turkey can be a part of this.
India and Turkey are both energy deficient, but our energy needs are ever-increasing.
Thus, this becomes an very important part of our bilateral relations. We can work together in mining and other sectors to cater to our energy needs.
Turkey can also be a part of India's textile sector.