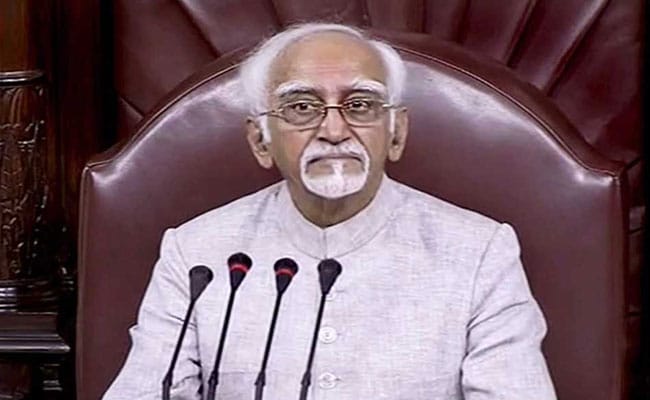 Highlights
"There is a sense of insecurity among the Muslims," Mr Ansari had said
Indresh Kumar said he should "go to a country where he feels secure"
Venkaiah Naidu had also rejected his remarks as "political propaganda"
New Delhi:
In his last interview as Vice President, Hamid Ansari said that "
there is a feeling of unease and a sense of insecurity among the Muslims in the country
", triggering a debate. It also invited a sharp reaction from a leader of the ruling BJP. Now, Indresh Kumar, a senior leader of the RSS, the BJP's ideological mentor, has hit out at Mr Ansari, saying he should "go and live in a country where he feels secure".
"I have one request to him (Ansari) and people like him who feel that Muslims are insecure, they should tell the name of the country where Muslims are secure and they should go and live in that country where they feel secure," Mr Kumar said.
He was addressing a gathering in Nagpur on Saturday when he claimed that "there were no takers within the community" for the former Vice President's "insecurity" remarks.
"Hamid Ansari is such an unfortunate (
durbhagyashali
) person that no one in the country came forward in his support. Muslims in large numbers also opposed his comments," he said.
The RSS leader also alleged that Mr Ansari remained secular for 10 years during his tenure as Vice President, but has now "become a hardliner (
kattarpanti
) after demitting the post".
In an interview to Rajya Sabha, while referring to referred to alleged incidents of cow vigilantism and '
ghar wapsi
' and killings of rationalists, Mr Ansari had said, "Something is obviously going wrong. What exactly, I do not have the final word, but I think there are enough people in the country who are worried about it."
Venkaiah Naidu, who took over as Vice President on Friday, also rejected his remarks as "political propaganda".
"Some people are saying minorities are insecure. It is a political propaganda. Compared to the entire world, minorities are more safe and secure in India and they get their due," Mr Naidu told news agency Press Trust of India.
BJP national general secretary, Kailash Vijayavargiya also reacted sharply to Mr Ansari's comments, describing them as a "political statement" made by someone angling for a political job after retirement.
(With inputs from PTI)