New Delhi:
The announcement of what Bahujan Samaj Party chief Mayawati has described as an understanding with arch rival Samajwadi Paty to "defeat the BJP" in by-elections on Sunday, has been described by Chief Minister Yogi Adityanath as "the coming together of a mongoose and a snake when a storm brews." An act of desperation by those discarded by the people, said his senior minister Srikant Sharma.
The BJP leaders are not alone in criticising the move. The Congress' senior Dalit leader from Uttar Pradesh, PL Punia, told NDTV today, "Every influential member of the Dalit community is questioning this. The Samajwai Party is seen as an anti-Dalit party." Mayawati is a Dalit leader and her party draws much of its support from the community.
By-elections will be held on Sunday, March 11, for the Gorakhpur parliamentary seat which Yogi Adityanath vacated after taking over as chief minister and for the Phulpur seat which his deputy Keshav Prasad Maurya vacated. Yogi Adityanath, who was the BJP's Gorakhpur MP for 19 years, was speaking at a rally in the constituency today when he said, "Today, I am hearing about the coming together of these two parties. It is as if when a storm appears the snake and the mongoose come together. They are in such a situation now."
It's a prestige battle for the BJP and that makes it crucial for UP's other principal parties, steamrolled by the BJP in last year's assembly elections. Mayawati's BSP announced on Sunday that it would support the Samajawadi Party's candidates in both Gorakhpur and Phulpur. The two parties are also pooling resources for elections for Rajya Sabha seats from the state later this month and legislative council elections due soon.
Immediately, there was talk about whether this would lead to a Bihar-like experiment of regional rivals coming together to take on the BJP ahead of the 2019 national election, when the BJP hopes Uttar Pradesh with its 80 parliament seats will power a big win for it at the centre like it did in 2014. The BJP had won 71 seats.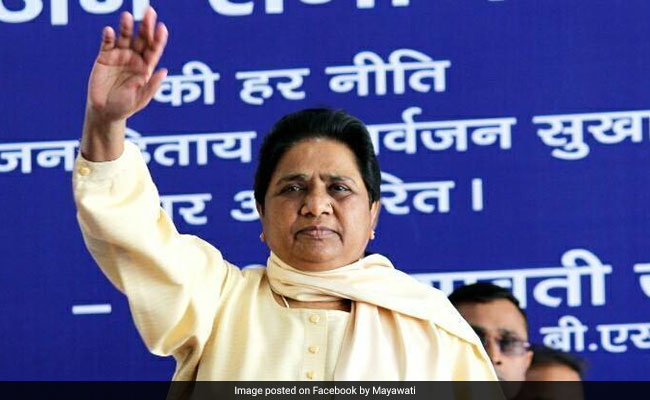 The Congress would like to contribute to the cause of trying to defeat the BJP and party sources said it is considering withdrawing its candidates for the by-elections in the two VIP constituencies to bolster the chances of the Samajwadi Party candidate by avoiding a split of votes. One of its candidates is said to be unenthusiastic about that plan and the sources said the top leadership pf the party will take a decision soon.
The two parties experimented with a partnership 25 years ago, tying up for the 1993 assembly elections to counter the BJP as it rode a Ram temple wave. They had won and formed a coalition government but it came apart two years later.
Mayawati has emphasised that there is no alliance between her party and the Samajwadi Party. She explained the "agreement" saying, "BSP has not fielded any candidate from Phulpur and Gorakhpur, but this does not mean that party workers will not cast their votes. They will in fact exercise their voting rights appropriately... As per my earlier directives, the BSP workers will vote for a candidate who will be in a position to defeat the BJP, and there is nothing wrong in it."
She also said that there is an arrangement of "vote transfer" between BSP and SP lawmakers for elections for 10 Rajya Sabha seats from UP on March 23.
The Left has welcomed the move. "It is a positive development. In UP there is a need for secular forces to come together to fight the BJP. Let us see how this decision will take shape in future in UP," CPI leader D Raja told NDTV.