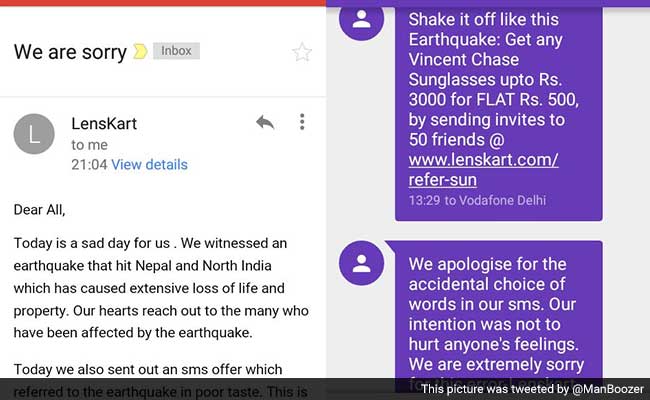 New Delhi:
As massive tremors rocked India and Nepal, e-retailer Lenskart sought to make the natural disaster into a promotional event by asking the customers to "shake it off" like the earthquake by buying its sunglasses.
Outrage on the social media, however, forced the company to retract the campaign and apologise for the "error."
As the figures and details of massive loss of lives and property were still trickling in, Lenskart sent out promotional SMS-es that read: "Shake it off like this Earthquake: Get any Vincent Chase Sunglasses up to Rs 3,000 for FLAT Rs 500, by sending invites to 50 friends...."
The campaign created a massive backlash soon as netizens took to social networks like Facebook and Twitter to lambast the company with hashtag #ShameonLenskart.
Later, the company sent out another SMS apologising for the "accidental choice of words".
"We apologise for the accidental choice of words in our SMS. Our intention was not to hurt anyone's feelings. We are extremely sorry for this error - Lenskart Team," the new message said.
The company did not reply to PTI queries in this regard.
A strong earthquake measuring 7.9 on the Richter scale shook Nepal and several parts of India, including the national capital, leaving a trail of devastation.
Hundreds of people were killed in Nepal as the quake flattened houses and buildings and triggered an avalanche on Mt Everest. Casualties have been reported from India as well.