Highlights
Lalu Yadav discharged from Delhi's AIIMS hospital, protests release
Has been serving jail sentence in Jharkhand for corruption
He 'improved significantly' after treatment for chronic issues: Doctors
New Delhi:
Lalu Yadav alleged a "conspiracy by the CBI and Prime Minister Narendra Modi" as he was discharged today by Delhi's AIIMS hospital, in a wheelchair and against his wishes. Doctors at the premier central government hospital said the Bihar politician's health had improved significantly and he was fit to travel by train to Jharkhand's Ranchi, where he is
serving a jail sentence
for corruption.
The hospital has complained to the police about unruly behaviour by the Rashtriya Janata Dal (RJD) leader's supporters when he was being wheeled out.
Lalu Yadav's last visitor at AIIMS in the morning was Congress president Rahul Gandhi, who sat with him for around 30 minutes.
To the former chief minister and his family, the hospital's decision was sudden and inexplicable.
"This is unfair; it is a conspiracy to endanger Lalu Yadav's health. I am being shifted to a place where there are no facilities. It is a tough time, but I will face it," said the 69-year-old angrily, speaking to reporters.
Alarmed at learning that AIIMS was about to let him go, Lalu Yadav had also written to the institute's director Randeep Guleria: "If my life is threatened by this decision, then you (AIIMS) will be held responsible."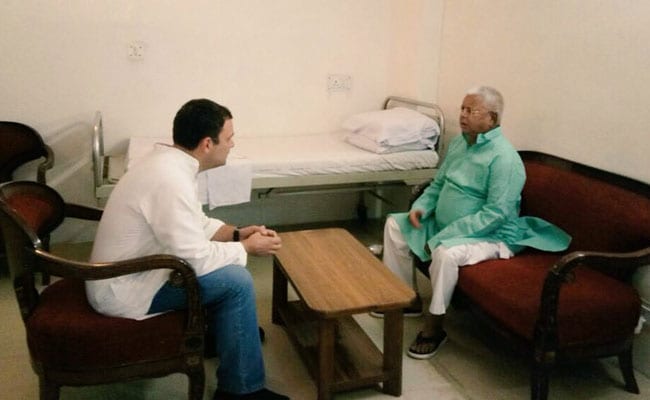 His son, Tejashwi Yadav also protested his release. "Depriving him of proper treatment is part of a conspiracy to kill my father," Tejashwi, a former Deputy Chief Minister, said in Patna, according to news agency IANS. There was political pressure on AIIMS to deprive him of proper treatment, he alleged.
AIIMS said in its statement that Lalu Yadav was being referred back to the Ranchi Medical College hospital for
treatment of his chronic issues
. "He is currently stable and is fit to travel," the hospital said.
Lalu Yadav couldn't disagree more with the doctors. Listing heart, kidney and blood sugar problems, he wrote: "My back hurts and I feel dizzy... I have fallen in the bathroom several times. My pressure and sugar keep shooting up."
Stating that the Ranchi medical college hospital
did not have facilities
for kidney-related treatment, Lalu Yadav appealed: "Every citizen has the right to treatment that satisfies him. I don't know under what pressure -- from any agency or political party -- has this decision been taken."
"A doctor is like god and can't buckle under pressure," he urged.
Lalu Yadav was jailed last year after being convicted in fodder scam cases. He was shifted from the prison to a hospital when he complained of discomfort in March. From there, he was referred for specialized treatment to AIIMS, where he arrived after a 16-hour train journey that became controversial because the RJD alleged that he had been denied plane fare.