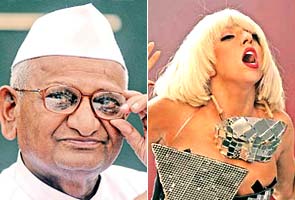 New Delhi:
Guess who is giving competition to Anna Hazare ahead of Independence Day? Believe it or not, it is international pop queen Lady Gaga. Though, the waiflike 25-year-old isn't set to fast for a cause, she has only just pipped Hazare to the number one spot in online searches in the country this month.
Go figure
Statistics revealed by the popular search engine, Google, show that with Independence Day round the corner, and Hazare pledging again to sit on an indefinite fast on August 16, the netizens from India are searching high for him.
Along with him is the world's number one pop star, Lady Gaga. Indians are highly anticipating her visit in October and the searches are soaring high for her. The maximum searches for Lady Gaga are from Haryana, followed by Kerala and Madhya Pradesh. In all, UP and MP were the top states searching for both Anna Hazare and Lady Gaga.
Google Trends reveal there is a neck-to-neck competition for the two. While in July, Lady Gaga seemed to be a point ahead of Anna, in August, there was a fight for the top slot every alternate day. While the top searches related to her are 'Lady Gaga songs', 'Lady Gaga India', 'Judas', searches related to Anna are 'corruption', 'Anna Hazare Corruption', 'Anti-corruption' and 'India Against corruption'. Interestingly, netizens from across the globe are searching for Anna. While India tops the charts, UAE and Singapore follow at spot two and three.
And the winner is...


Also Anna has found a name for himself in the list of freedom fighters. When doing a comparison analysis among the freedom fighters, the trend reveals a tremendous increase for Anna Hazare, the anti-corruption hero, though in the last 30 days though Mahatma Gandhi occupies the top slot.
Haryana, Madhya Pradesh, Uttar Pradesh, Delhi and Punjab are the top five states, in that order, searching for Anna Hazare. Also the search in the last 30 days shows a huge rise for the key words, 'Freedom Fighters' and 'Indian Flag'. The top five regions showing patriotism are Delhi, Karnataka, Tamil Nadu, Maharashtra and Andhra Pradesh.