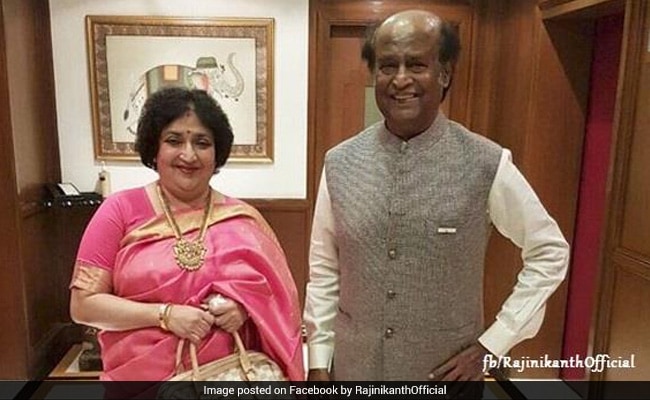 New Delhi:
The Supreme Court today asked a firm, in which superstar Rajinikanth's wife Latha Rajinikanth is a director, to pay the dues of Rs 6.2 crore to an advertising agency which had given the money to it during the post-production of 2014 film 'Kochadaiiyaan'.
A bench comprising Justices Ranjan Gogoi and R Banumathi clarified that if the firm Mediaone Global Entertainment Ltd does not pay the dues to AD-Bureau Advertising Pvt Ltd within three months, then Ms Latha would have to pay the amount as per the undertaking given by her.
"Within the aforesaid period of three months if the company - Mediaone Global Entertainment Limited does not pay the balance dues, the respondent-accused i.e. Latha Rajinikanth has undertaken before the court to pay the amount due," the bench noted in its order.
"On the basis of the aforesaid statement made on behalf of the respondent-accused, we adjourn the hearing of the case by three months," the bench, while keeping the plea pending for three months, said and posted the matter for hearing on July 3.
The apex court's direction came on a plea filed by the advertising agency against the March 10, 2016 order of the Karnataka High Court quashing the proceedings against Ms Latha, which were initiated after a trial court order.
Ms Latha had approached the high court after the trial court had referred the private complaint filed by the advertising agency to the police for investigation.
The advertising agency had alleged in its complaint that they had ventured in the post production of film 'Kochadaiiyaan' which was produced by Mediaone Global Entertainment Ltd on Latha's personal guarantee and had funded Rs 10 crore for it.
It had claimed that Mediaone Global Entertainment Ltd was required to refund Rs 10 crore plus Rs 1.2 crore being the "guaranteed profit".
The company had alleged that it was later found that the money was being diverted for repaying earlier debts.
During the hearing today, the bench was told by the counsel representing the advertising agency that out of a total due of Rs 14.9 crore, Mediaone Global Entertainment Ltd had re-payed Rs 8.70 crore and Rs 6.2 crore was the outstanding dues.
The bench also observed that being the director of the firm, Ms Latha was liable to pay the dues to the company.