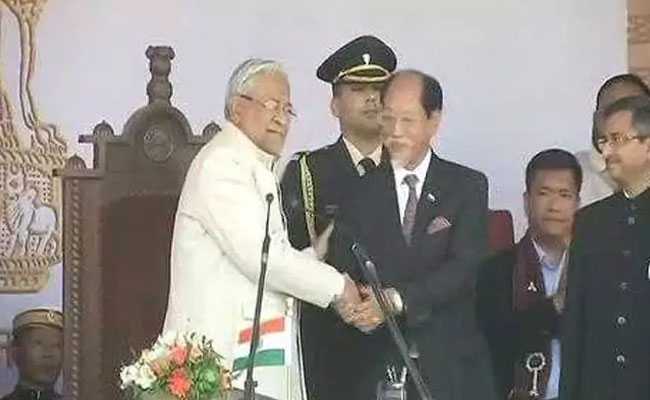 New Delhi:
Neiphiu Rio, chief of Nationalist Democratic People's Party (NDPP), took oath today as the Chief Minister of Nagaland at its capital Kohima. He became the first Nagaland leader to take oath outside Raj Bhavan. The BJP's Y Patton also took oath as the state's deputy chief minister. Before the Nagaland assembly elections, the NDPP and the BJP had entered into an alliance. They together won 30 seats in this election and formed the government with the support of one JD(U) legislator and an Independent. Their alliance will be called "People's Democratic Alliance". This will be Neiphiu Rio's fourth time as the Chief Minister of Nagaland.
Born on November 11, 1950, Neiphiu Rio is the only Chief Minister of Nagaland to have served three consecutive terms between 2003 and 2014. This will be Mr Rio's fourth term as Nagaland Chief Minister.

In Nagaland Assembly Election 2018, Neiphiu Rio was contesting from Northern Angami II constituency and was declared elected unopposed.

67-year-old Neiphiu Rio was educated at the Baptist English School, Kohima and Sainik School in Purulia, West Bengal. He did his higher education from St Joseph College, Darjeeling and graduated from Kohima Arts College.

Neiphiu Rio, who led Nagaland for 11 years and is all set to take charge for another five years, began his tryst with politics when he was elected president of Kohima district youth wing in 1974. He became the acting president of the United Democratic Front (UDF) youth wing in 1976-77.

According to the Association for Democratic Reforms (ADR), Niephiu Rio is the richest legislator in Nagaland with assets worth over Rs 36 crore.

He was first elected to the Nagaland assembly on a Congress ticket in 1989. He worked on different portfolios and resigned from the membership of the assembly and the Congress in November 2002 after differences with then Chief Minister SC Jamir over the Naga issue.

After his resignation, Mr Rio joined Naga People's Front which partnered with other Naga regional parties and the state branch of the Bharatiya Janata Party to form the Democratic Alliance of Nagaland (DAN). He became the Chief Minister after winning the 2003 Nagaland assembly elections and led the state till 2014.

Neiphiu Rio broke away from the ruling Naga People's Front (NPF) to join the Nationalist Democratic Progressive Party, a political outfit founded in May 2017 with his backing.

For 2018 assembly elections, NDPP formed alliance with the BJP and formed the government with the help of an independent and one JD(U) legislator. With majority seats on his side, he became the Nagaland Chief Minister for the fourth term.

Neiphiu Rio is married to Kaisa Rio and the couple has five daughters and one son.
Post a comment