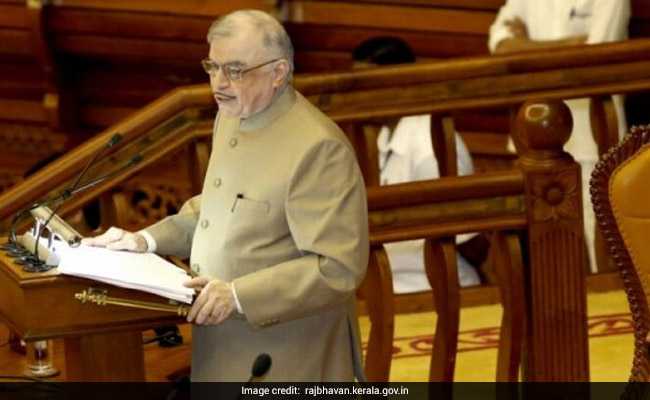 Thiruvananthapuram:
Anguished over the recent fatal attack of a man in Kerala, Governor P Sathasivam today asked people to be on guard against intolerance raising its 'ugly head' in the form of honour killing.
"We as a progressive society, must also be on our guard against intolerance raising its ugly head in the form of honor killing, which was not heard of in our state", he said.
Kevin Joseph, a Dalit Christian, was abducted on May 27 in Kottayam by a gang allegedly engaged by his fiancee's family. His body was found in a river in Kollam district a day later.
"The killing of the man is a warning for all of us to think deeply about the degeneration of our own mindset", Sathasivam said in his validictory address at the second anniversary celebrations of the CPI(M)-led LDF government.
The Governor said that even amidst so many enviable examples of amity, one is often disturbed by instances of political unrest and hatred, resulting in bloodshed in some districts and some parts of the state.
True welfare also lies in peoples' right to live happily and without fear, he said, adding that the unending saga of political murders and clashes should remind people to be more vigilant "in preventing political differences rotting to murderous hatred'.
There is a need to transmit the Gandhian principles of tolerance, non-violence and humanism among the young generation, who in future would become the flag holders of Gandhian philosophy in the state and the country, he said.
"Let us hope that Kerala will be enriched by creative ideas that compete to make our state the most advanced, peaceful and peace loving society in the world'.
The progressive steps, coupled with a stronger vigilance in ensuring social amity, would certainly take the state closer to 'Navakeralam' (a new Kerala) very soon, he added.
The Governor said various political parties have been vigilant in responding to each and every issue, vigorously suggesting remedial measures and demanding action in the true spirit of democracy.
He hoped this democratic tradition "would add strength to our governments and make Kerala a better and preferred place to live".
Mr Sathasivam said Kerala is noted for many progressive steps which transformed the state's social fabric. The Land Reforms Act, the leap in education,minimum wages for labourers and protection to trade union rights had made Kerala a model for other states to follow, he said.
The present government has sought to rebuild the state as one of the most advanced societies in the world through the Navakeralam Mission, Mr Sathasivam said.
This Mission, clubbed with flagship schemes and central sector schemes focusing on education, agriculture and environment, housing and health, has started showing positive results, slowly building a model in each of the areas it covers, he added.