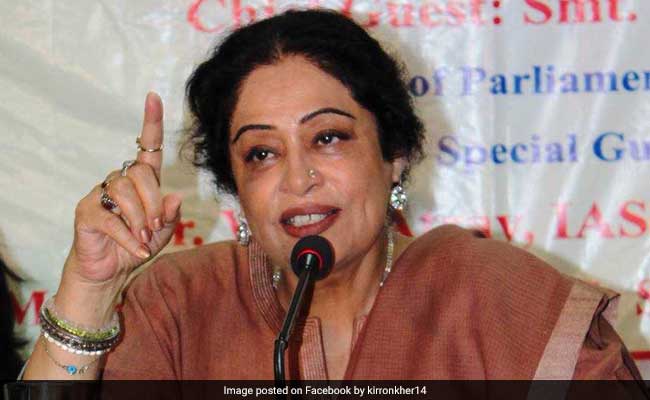 Chandigarh:
Kirron Kher, the BJP legislator from Chandigarh, delivered a scathing criticism of fellow BJP man Ramveer Bhatti, saying she was "embarrassed" to be called his party colleague.
Mr Bhatti had questioned why the 29-year-old Varnika Kundu
, who was stalked and almost got kidnapped last week, was out at night. "Parents must take care of their children... they shouldn't allow them to roam at night. Children should come home on time, why stay out at night?" Mr Bhatti said. His comment was seen as victim shaming in an attempt to save the alleged accused,
Vikas Barala, the son of the state's topmost BJP leader Subhash Barala.
Since yesterday, activists and people on social media heaped scorn on Mr Bhatti, who is Mr Barala's deputy. Ms Kher, an outspoken actor-politician, had been among the first to speak out. Today she said it is the boys who should be kept at home, not girls.
"Why is there danger at night and not during the day? They should tell boys not to go out at night," Ms Kher said.
Ms Kundu and her father, Haryana bureaucrat Virendar Kundu, did not pull any punches. As her father called Mr Bhatti's attitude "pre-historic", Ms Kundu aslo lashed out, saying, "It is none of his business, it is my business and my family's what I do and where.
"If it wasn't for men like these, I wouldn't be unsafe going out... whether it was 12 am or 2 am or 4 am," the 29-year-old further said.
A senior woman officer is likely to be given charge of the investigation after speculation that the police is under pressure to engineer a cover-up for the BJP, which rules Haryana. Vikas Barala and his friend were arrested, but let off within hours because the charges against them were bailable.
The police have denied the speculations. Senior officer Satish Kumar said they have recovered CCTV footage from five cameras in the area, which provide evidence of the chase.