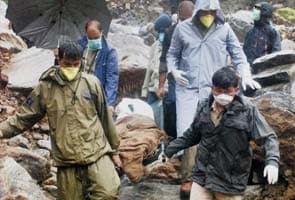 New Delhi:
The Uttarakhand government told the Supreme Court on Friday that Kedarnath, the worst affected during the recent floods, has become a "ghost town".
The additional advocate general of Uttarakhand, while informing the Supreme Court bench of Justices A K Patnaik and M Y Eqbal about the rescue and relief measures being taken by the state government, said several dead bodies are still buried under the slush and rubble.
In its affidavit, the Uttarakhand government told the court that they have asked other states for a list of people who were present in Uttarakhand before and during the period when flood hit the hill state.
The affidavit was filed by the Uttarakhand government in pursuance to the Supreme Court's July 3 order asking it to put on record that rescue operations were over and immediate relief has been provided.
The Uttarakhand government said that except for Kedarnath, the communication lines in the rest of the flood-affected areas have been restored, adding that affected families have been assured free ration for three months or until they remain cut-off from rest of the state.
The state government also told the court that mule tracks and footpaths were being restored so that supplies to villages are restored.
The state government also said that some people in Badrinath, Gangotri and Yamunotri have refused to leave; these people say they will leave only after the doors of the temples here are closed in third week of November. But, the government said special evacuation arrangements are being made in case these people decide to leave.
The Supreme Court also asked the National Disaster Management Authority (NDMA) to apprise it within two weeks about the status of rescue operations in Uttarakhand.