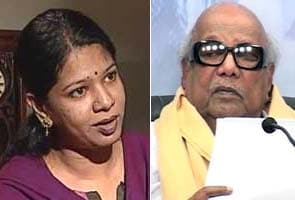 Chennai:
DMK chief M Karunanidhi, who turned 88 on Friday, cancelled a visit to Delhi to meet Kanimozhi lodged in Tihar jail.
The day was also bereft of traditional pomp and glory.
Kanimozhi, a Rajya Sabha MP, and DMK's trusted member and former Telecom Minister A Raja are cooling their heels in Delhi's Tihar jail for their alleged role in the 2G scam.
The DMK, founded by Dravidian veteran C N Annadurai, intends to make the birthday an opportunity to redeem itself, with all claims of coming back to power on the basis of performance falling flat and the 2G spectrum scam making a heavy dent on its image.
The arrest and incarceration of his youngest child has been difficult for Mr Karunanidhi. He made his unhappiness clear and did not meet Congress leader Sonia Gandhi on a trip to Delhi on May 23, when he met his daughter in Tihar jail. However, he later said that he did not meet Sonia Gandhi in Delhi as it would not have been appropriate when his daughter is in jail.