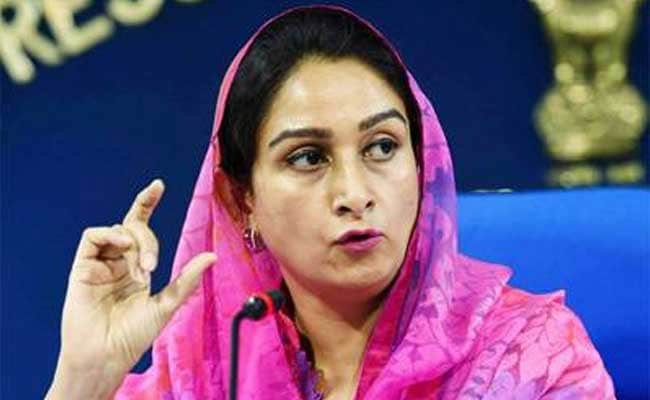 Wagah Border/Amritsar:
Union Minister for Food Processing Industries Harsimrat Kaur Badal on Wednesday said that she has clearly told the Pakistan media that Kashmir belongs to India and there is "no scope" of negotiation on this issue.
Speaking to the media soon after crossing the border at Wagah, Ms Badal said, "I have clearly told their media (Pakistan media) that Kashmir is a part of India and will stay that way. There is no scope of negotiation on this."
She, along with Union Minister of State for Housing and Urban Affairs Hardeep Singh Puri, crossed Atari-Wagah border to return to India. The two ministers came back on Wednesday evening after attending the groundbreaking ceremony of Kartarpur corridor in Pakistan earlier in the day.
Sharing her experience about the visit, Ms Badal said, "Politics must be left aside on Kartarpur issue. As much as our visit is concerned, neither Pakistan invited us nor we have any friend or relative there but it was Baba Nanak's invitation which took us there for the first time. It is my belief that when Baba Nanak gave his blessing, the pending demand of 70 years got fulfilled."
On being asked to comment on Punjab Cabinet Minister Navjot Singh Sidhu's visit and his comments made in Pakistan, Ms Badal said, "It must be noted that I and Hardeep Singh Puri went to this ceremony to represent our country. He (Sidhu) participated on account of an old friendship. So there is, of course, a difference between the two."
Earlier in the day, Pakistan Prime Minister Imran Khan performed the groundbreaking ceremony of much-awaited Kartarpur corridor. Several Pakistani dignitaries including Pakistan's Chief of Army Staff General Qamar Javed Bajwa, Foreign Minister Shah Mahmood Qureshi were present at the occasion.