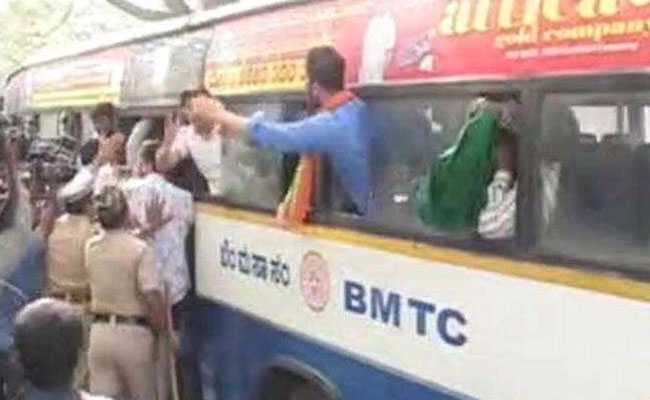 New Delhi:
A statewide
Karnataka bandh
on January 25 has been called by Pro-Kannada groups and state farmers have to urge the central government to resolve the Mahadayi water dispute at the earliest. After this Bengaluru bandh has been called on February 4 which will coincide with Prime Minister Narendra Modi's visit to the city for state BJP's Parivartan Yatra. The bandhs have been called to draw centre's attention to the state's demand for the implementation of the Kalasa-Banduri project on two tributaries of the Mahadayi river. The project, that will benefit Karnataka has been resisted by neighbouring Goa. Karnataka, Goa and Maharashtra have been debating the matter of Mahadayi river water sharing since 90s and the matter is before a Tribune.
How Karnataka Bandh Will Affect Normal Life:
The Karnataka bandh over Mahadayi river dispute has been called from 6 AM to 6 PM.

As a precautionary measure, private schools and colleges have declared a holiday on January 25. The Associated Managements of Primary and Secondary Schools in Karnataka has announced that all schools affiliated to it will be shut because of the state-wide bandh.

In Bengaluru, most of the private schools and government offices are likely to remain shut.

Petrol bunks, hospitals and chemists' shops across will be operational across the state.

Autos will not operate on Karnataka bandh day but taxi services like Ola and Uber will ply.

Public transport services will function without any hindrance. The officials of Karnataka State Road Transport Corporation (KSRTC) and Bangalore Metropolitan Transport Corporation (BMTC) said they would run the public buses.

The Bengaluru Metro will also be fully operational on the day of Karnataka bandh.

Banglore University has postponed all exams scheduled for January 25. Visvesvaraya Technological University (VTU) has postponed the post graduate examinations scheduled on Thursday to February 5.

Security has been heightened across the state. In Bengaluru, 15,000 police personnel will be on duty to keep the peace.

In view of the Karnataka Bandh, Chief Minister Siddaramaiah said, "The situation should remain peaceful during the bandh. It is the government's duty to maintain law and order."