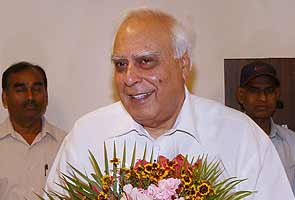 New Delhi:
Kapil Sibal today assumed the charge of the Union Law ministry, taking over from Ashwani Kumar who resigned last week after he came under attack in the Supreme Court for vetting the CBI report on the allocation of coal blocks.
Mr Sibal will hold additional charge of law along with the communications and information technology ministry.
"I am thankful to prime minister (Manmohan Singh) and Congress chief (Sonia Gandhi) for assigning me this job. With a year to go for next Lok Sabha elections, I will do my best to fulfill the responsibilities," Mr Sibal told reporters in Delhi.
Ashwani Kumar resigned on Friday after allegations that he made deletions in a CBI report on its coal allocation investigations meant for the Supreme Court. The court had severely reprimanded both the CBI and the government for Mr Kumar's actions.