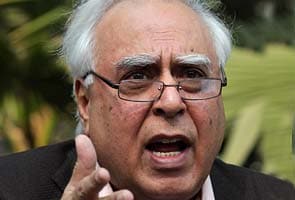 The Rajya Sabha was adjourned on Tuesday after more than half day of work, following ruckus by Opposition members against introduction of Copyrights Amendment Bill by Communications Minister Kapil Sibal.
The Opposition members said that the minister had a conflict of interest as his son was fighting a case for music company, T-Series.
"There is a conflict of interest here, the minister should not present the bill," said Shivanand Tiwari of Janata Dal-United, interrupting the House.
Tiwari raised an objection under Rule 294 of the proceedings, which says any member having a direct or indirect interest should declare conflict of interest before participating in any related debate.
Opposition members including from the Left, Bharatiya Janata Party, AIADMK, Telugu Desam Party (TDP) and other parties backed Tiwari. TDP leader MV Mysura Reddy, BJP's Prakash Javadekar, and Sitaram Yechury from Communist Party of India-Marxist along with several other members also rose to their feet, claiming there was a "conflict of interest".
When Parliamentary Affairs Minister Pawan Kumar Bansal tried to convince the Opposition, he was not given an opportunity to speak.
"The minister's son is independent," Mr Bansal said pointing out that conflict of interest was limited to spouse and dependents.
He also said that Leader of Opposition in the House, Arun Jaitley, was also a lawyer and must have taken several cases which could have been related to certain debates.
"The Leader of Opposition must have fought cases... it is not in good taste, rather non-parliamentary," Bansal said.
With Opposition members refusing to calm down, Deputy Chairman K Rahman Khan adjourned the House for 15 minutes.
When the House reassembled, the scene was no different.
Mr Khan pointed out that the minister had not even stood up to table the bill when the Opposition started raising the issue and then adjourned the House for the day.
Copyright in a film currently rests with the producer for 60 years. The proposed legislation extends copyright to a director as well, but for 70 years. In some cases, this amendment also applies to films produced before the measure comes into being.
The bill makes special provisions for those whose work is used in films or sound recordings, like lyricists and composers.