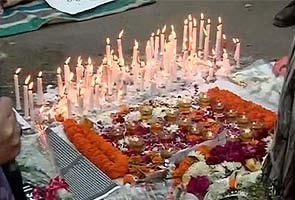 New Delhi:
As the country mourned the death of 23-year-old medical student, who was brutally gang-raped in a moving bus a fortnight ago, Delhi decided to keep the New Year celebrations subdued. Several clubs and restaurants in the city cancelled celebrations on the New Year's Eve.
Connaught Place (CP), the hotspot for New Year celebrations for years, wore almost a deserted look at midnight. Police personnel outnumbered the revellers at CP.
"Every year we go out for having whole night fun but this year I have cancelled all programme as I am sad for the girl who is of my age. And to be honest, I am afraid to go out in night in Delhi, it is an unsafe city for women," said Neha, who along with her friends had come to Connaught Place.
People were, however, out in the market and other spots in the city on New Year's Eve where police kept a tight vigil to prevent any untoward incident.
"It may be a New Year for entire world but for Delhilites it is a sad day. If a person is not safe in bus then where in Delhi is he or she safe? Earlier being a resident of Delhi we were afraid of terrorist attacks now we are afraid of rapists too," Karan Sharma, a local resident, said.
Protests were held at Jantar Mantar where a makeshift memorial was also built in the memory of the girl. (
Read
) Many young women from the Jawaharlal Nehru University in the capital marched from their campus to Munirka from where the girl had boarded the bus that night.
The resounding message from people across the country was that we will not forget that her death will not go in vain and things will change this time round.
During the day, students took out a march in Connaught Place. But the Central Park, where the students had planned to gather, was closed and a banner read it was under renovation.
All roads leading to the CP were shut down with heavy police deployment at key areas.
The Rapid Action Force (RAF) equipped with water cannons and riot gears was deployed in the inner circle. It was a no-vehicle zone at CP to control the crowd.
Policemen armed with alcometres were out on streets to check drunken driving. Vehicle checks were stepped up at locations like malls and hotels. Traffic regulations were also in place to ensure Delhiites have a smooth run up to the celebrations.
Police personnel were posted at all hotels, restaurants, markets and religious places which were drawing people in large numbers.
Owners of pubs were asked to immediately alert officials on any probable trouble-makers.
"We have been given strict instructions to keep an eye on motorists driving under the influence of alcohol and personnel have been stationed at various locations to ensure the same," a senior police official said.
And not just in India, the case has struck a chord with Indians across the world. In Paris, there was a march to the Indian embassy where a petition was handed over asking for action to make women safer.