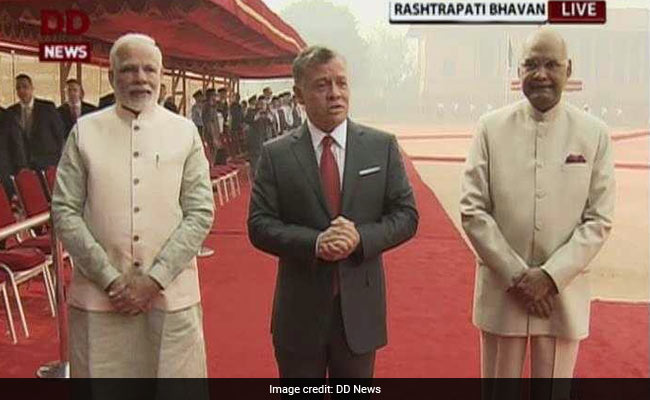 New Delhi:
Jordan's King Abdullah II will meet Prime Minister Narendra Modi today at the Hyderabad house. Today is the last day of his three-day visit to India, which is aimed at taking
bilateral relations
to a "new high".
King Abdullah arrived
in India on Tuesday and was accorded a grand welcome with Prime Minister Narendra Modi receiving him at the airport. The King's visit comes nearly three weeks after
PM Modi traveled to Jordan
as part of his trip to West Asia, including Palestine. This morning, he received a ceremonial welcome at the Rashtrapati Bhawan, after which he visited the Raj Ghat, where he laid wreath at the Mahatma Gandhi memorial.
King Abdullah
then attended a 'Islamic Heritage: Promoting Understanding and Moderation' event at the Vigyan Bhawan. PM Modi and King Abdullah then met at the Hyderabad house where high level delegation talks will be held followed by exchange of agreements. Then in the evening King Abdullah will meet Vice-President and the President
Here are the highlights of Jordan's King Abdullah II India visit:
Truly humbled by the warmth and generosity of the people of India. Thank you, President Kovind and PM @narendramodi, for a productive visit. Jordan counts India as a vital partner and a true friend. We look forward to advancing our economic ties and partnership

- عبدالله بن الحسين (@KingAbdullahII) March 1, 2018
This is the fourth state visit of the King of Jordan to India. The first occurred when President S. Radhakrishnan hosted King Hussein at Rashtrapati Bhavan in December 1963 pic.twitter.com/hbetQOocGq

- President of India (@rashtrapatibhvn) March 1, 2018
King Abdullah arrived in New Delhi on Tuesday on a three-day state visit. This is his second visit to India after his trip with Queen Rania in 2006.
India and Jordan signed 12 agreements, including a memorandum of understanding on defence cooperation, following a bilateral meeting between Prime Minister Narendra Modi and King of Jordan Abdullah II Ibn Al Hussein in New Delhi.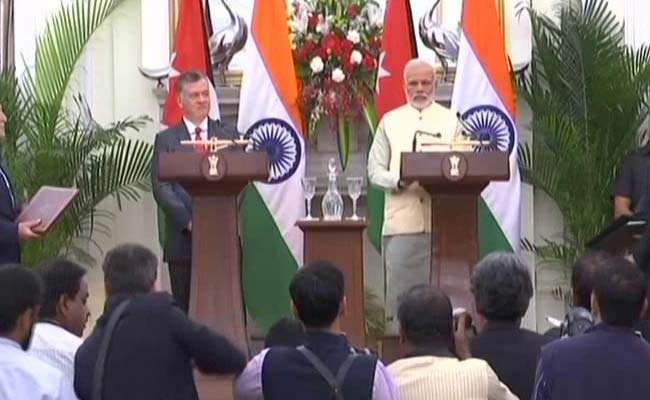 Agreements exchanged between India and Jordan in the presence of PM Narendra Modi and King Abdullah II of Jordan.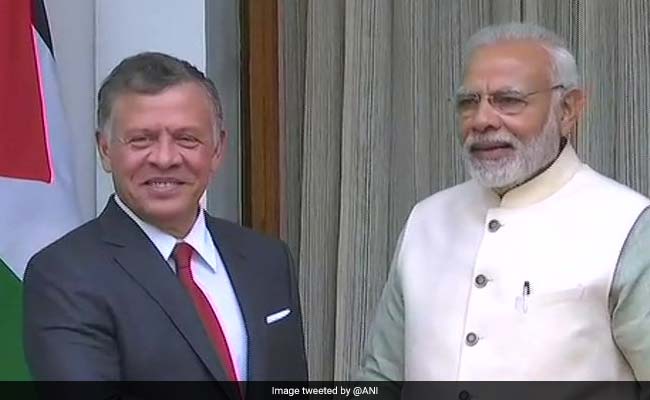 Jordan King Abdullah II meets Prime Minister Narendra Modi at Delhi's Hyderabad House.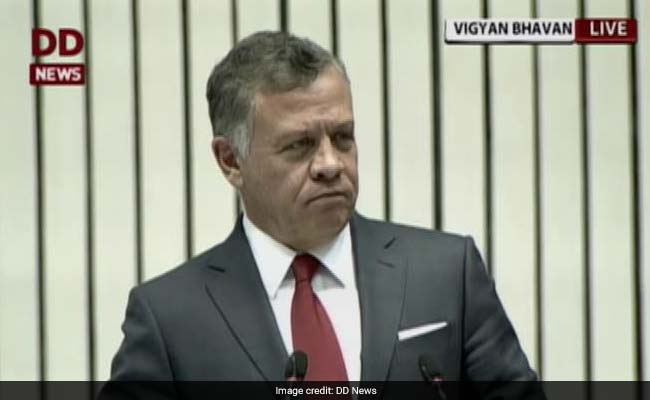 Jordan King Abdullah II addresses at the Vigyan Bhawan:

Different groups and ethnic groups have lived in unity. Faith allows us to prosper and thrive.
Where did human diversity begin, it began with a male and female.
To understand each other, to act righteously in the sight of god, the faith shared by Muslims around the world.
Qualities like leadership were passed on to me by my father.
It's my highest priority is to secure a future for all, including my neighbours and hosting refugees.
The world is one big family and we have shraed responsibilities. Both Muslims and Hindus live together.
Our values require us to act together for our future.

We need to take back the voices of hatred from airwaves, internet. We need to make youth understand and learn values of religion.

Share ideas for a bright future, we need to build successful countries to deliver our great promise of a future of prosperity, peace.
Let's all reach out to each other, muslim or non-muslim to ensure no one is excluded from that promise.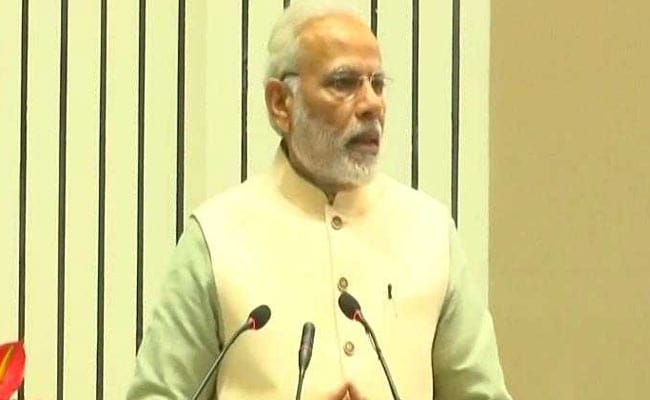 PM Modi addresses at the Vigyan Bhawan:

Difficult to describe in words your (Jordanian king) role in establishing Islam's identity.
Your nation and our friend country is situated on a land from where the message of god was sent out across the globe.
Whether it's Buddha or Mahatma Gandhi, the message of peace was spread from here. It's been the land of Sufism. India has creating an identity while considering the whole world as one family.
We are trying to take everybody along on the road ahead, on the road to success, to happiness
Focus not only on their success but also on their overall development, which is possible only if they value their traditions.
Muslim youth have Quran in one hand and computer in the other.
Modernity with tradition go hand in hand.

We would like to create awareness with the help of different leaders from all over the world. India would walk with you in your fight against terrorism.

Thankful to you for accepting our invitation.

Hours before the meeting, Prime Minister Narendra Modi tweeted about his meeting with the Jordan King.
Looking forward to meeting His Majesty King Abdullah II today. We will take part in a conference on 'Islamic Heritage: Promoting Understanding and Moderation' at 10:30 this morning in Delhi. After that, we shall be holding talks aimed at boosting India-Jordan relations.

- Narendra Modi (@narendramodi) March 1, 2018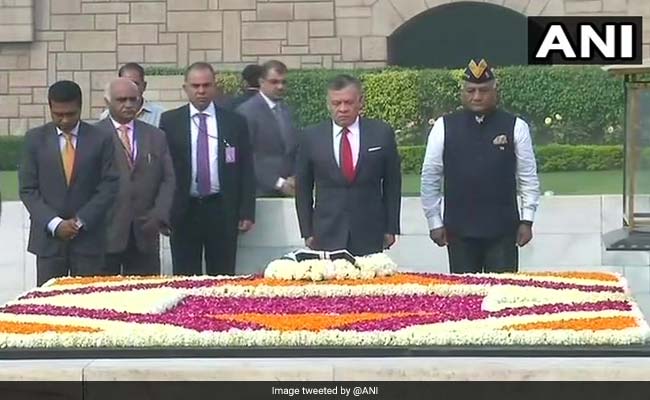 Jordanian King Abdullah II pays tribute to Mahatma Gandhi at Rajghat in Delhi.
King Abdullah II receives ceremonial reception at the Rashtrapati Bhawan in Delhi.