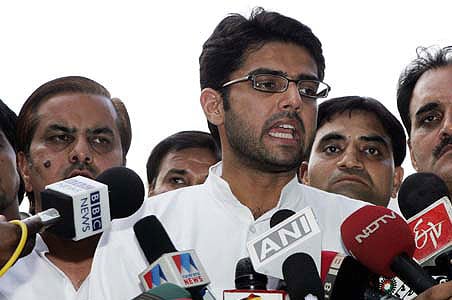 Toronto:
Sachin Pilot, India's minister of state for communications and information technology, on Wednesday asked Canadian companies to invest in India to take advantage of the IT revolution in the country.
Pilot, who is here to meet with leaders of Canadian companies such as BlackBerry maker Research In Motion (RIM) to discuss investment opportunities and issues related to cyber security, said there is a huge scope for Canadian IT companies in India's telecom sector because of its on-going "exponential growth.''
In his invitation to Canadian companies, he said, "Though our two countries have great relationship, but it has now to be translated into business. High technology is opening big opportunities for foreign companies in India.''
The minister said India's IT and BPO exports have touched $60 billion, but Canada's share was just $600 million. "Which is low by Canadian standards,'' he said.
Pilot said the opportunities for foreign companies in India's telecom revolution can be gauged from the fact the country currently has 560 million mobile subscribers and "adding 15 million each month.''
The telephone density in India, he said, has gone up from just 1.5 a few years ago to 50 percent. But the tele-density was even much higher than this in big cities like Mumbai, Delhi, Kolkata and Bangalore, he said.
However, the government was targeting rural India to offer broadband connectivity to every village to spread education, provide health care and make the country a knowledge hub, he said.
According to Pilot, the Indian telecom and IT sector will need investments to the tune of nearly $400 billion in the coming years, offering huge prospects for foreign players in software and hardware.
He said most of Forbes' 500 companies have set up shop in India because of its "great market, R & D facilities and support by the government.''
Pilot said a task force on IT has prepared a comprehensive report to make India a software and hardware hub.
Referring to US President Barack Obama's opposition to outsourcing of IT jobs to India and other countries, he said the Indian IT sector has maintained growth rate of 30 percent and not been much impacted by recent global developments.
Pilot will meet top bosses of BlackBerry Thursday before leaving for India.
He is the second minister to visit Canada this year. Kamal Nath, minister for road transport and highways, was here last week to woo Canada companies.
The visits by Indian ministers follow visits by as many as 13 Canadian ministers, including Prime Minister Stephen Harper, to India last year.