Just a day after the launch of "effective price zero" JioPhone, Reliance Jio has come up with a "Keep me posted" link on its website for the bookings of the new 4G feature phone. Users need to fill their details (name, email and phone number) on the website to initiate the process. Once the process is done, an email notification will be followed to the given email address by "Team Jio" stating, "As we are in the process of fulfilling existing demand, we will contact you at the earliest for booking your slot."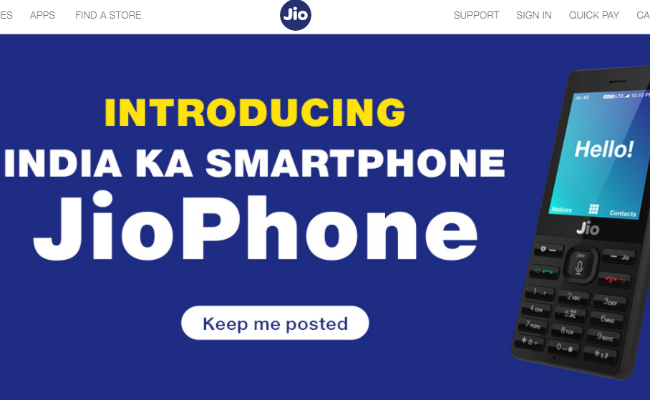 The slot timings are divided in two categories - weekday and weekend. For weekdays (Monday to Friday), the timings will be 5:30 pm to 9:00 pm. And for weekends (Saturday and Sunday), 1:00 pm to 4:30 pm and 5:30 pm to 9:00 pm.
JioPhone will come with lifetime free voice calls and 4G data streaming at a price of Rs 1,500, which will be refunded to the users while returning the phone after the completion of 36 months.
JioPhone will be made available for user testing in beta mode from August 15 and for pre-booking from August 24. And, it will be available to those who have pre-booked on a first-come-first-served basis from September onwards.
Reliance Jio, the fourth-generation telecom arm of Reliance Industries, will provide unlimited data on the phone for Rs 153 per month. Those who don't want to pay Rs 153, the company also introduced two sachets - a weekly plan for Rs 53 and a 2-day plan for Rs 23 - that will provide similar value.
Get Breaking news, live coverage, and Latest News from India and around the world on NDTV.com. Catch all the Live TV action on NDTV 24x7 and NDTV India. Like us on Facebook or follow us on Twitter and Instagram for latest news and live news updates.