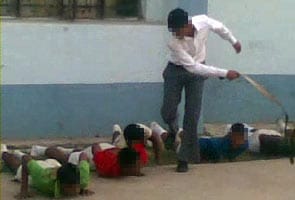 Koderma, Jharkhand:
The Koderma Police have filed a case against two students of the Sainik School in Tilaiya, Jharkhand, in connection with the beatings at the school.
The case has been filed on the basis of a student Shankar Khalkho's statement to the police.
"On the basis of statement of Shankar Khalko, the police filed the FIR against Mrinal Manyak Raj and Ashok Kumar Bharati," Kodarma SP Shambhu Thakur said. Both are class XII students.
The police said that the FIR was filed under sections 341 (wrongfully restraining any person), 323 (voluntarily causing hurt), 504 (insult intended to provoke breach of the peace) and 506 (criminal intimidation).
The police had sent a police team to Ranchi to record Khalko's statement; he was one of the juniors purportedly spotted in a video footage as being beaten up by seniors of the school.
In his statement, Khalko told the police that since joining school (in Class VII) in April, 2009, he was allegedly subjected to ragging by these two seniors.
He also told the police that he could not appear in Class VIII examination due to 'pain' in his hand and that he had informed the school principal about it.
The Jharkhand High Court has asked the school, which is run by the Ministry of Defence, to explain the incidents by November 21.
Unaware that they were being filmed, senior students of the prestigious school in Jharkhand lashed younger children with their belts. The clip - that's more than three minutes long - was reportedly filmed by a student at the Sainik School and shared with media persons in the last few days.
First, a student is seen hitting young children crouched up in a line. Later, another student uses a belt to strike a student seven times. During the clip, references by those filming the incidents to posting the video on YouTube can be heard.
No teachers can be seen on camera.
(With PTI inputs)